Health and Wellness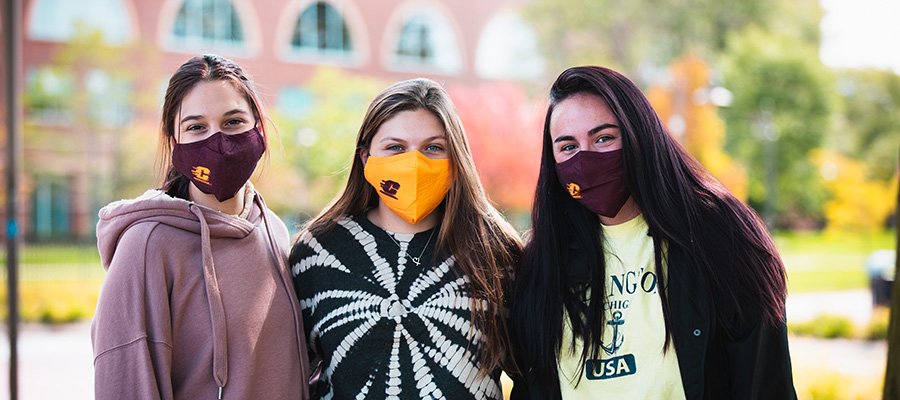 What You Need to Know
Quarantine and isolation guidelines were recently updated; see full guidelines below.
CMU requires all individuals, regardless of vaccination status, to wear a mask or face covering in classrooms, labs and other instructional spaces, as well as many other public areas on campus. See full guidelines below.
The "Protect Yourself. Protect Others." program requires every member of the CMU community to be fully vaccinated or participate in weekly COVID-19 testing.
CMU does not require students, faculty or staff to be vaccinated; however, we strongly encourage everyone to receive their vaccine. You can find information about vaccines on the vaccine webpage.
All students, faculty and staff who will visit a CMU campus or satellite location must complete the daily health screening app.
Any employee or student who has symptoms related to or has tested positive for COVID-19 — or who has been in close contact with someone who tested positive for COVID-19 — must contact the CMU COVID Tracking Team via the CMU health screening app or covidtracking@cmich.edu.
The CDC continues to recommend good personal hygiene. Visit their website for information on proper handwashing, covering coughs and sneezes, and other personal care best practices.
Mask Guidelines
The following guidelines are effective in the spring 2022 semester:
Outdoors on campus: Individuals are not required to wear masks outdoors on campus, regardless of their vaccination status. We recommend individuals continue to practice physical distancing when possible.
Indoors in closed offices and residence hall rooms: Individuals are not required to wear a mask while in their own offices or workspaces — which may include private offices or cubicles with tall walls or with appropriate Plexiglas partitions — or living spaces.
Indoors in public and/or open areas: While in communal areas, such as hallways, lobbies, large gathering spaces and facilities such as the Bovee University Center and Park Library, masks must be worn by all individuals, regardless of vaccination status.
Classroom/instructional spaces: While in classrooms, labs or other instructional space, all individuals must wear a mask, regardless of vaccination status.
Health clinical spaces: As required in the current MIOSHA emergency rules, masks are required for all individuals in our health clinic areas.
Indoor meetings and events of fewer than 25: If fewer than 25 individuals are gathering indoors in a well-ventilated space, vaccinated individuals are not required to wear their masks. Unvaccinated individuals are required to wear masks and maintain appropriate physical distance from others.
Larger capacity indoor gatherings: If more than 25 individuals are gathered indoors in a single room or enclosed space, everyone must wear a mask, regardless of vaccination status.
Prevention and Personal Responsibility
Personal responsibility remains critical to keeping our community safe. According to the CDC, in general, the more closely you interact with others, and the longer that interaction, the higher the risk of COVID-19 spread.
The best way to prevent illness is to avoid being exposed to the virus. Here are some general precautions you should always take to prevent the spread of respiratory diseases.
Masks should cover both your mouth and nose.
Wash your hands often with soap and water for at least 20 seconds.
Avoid touching your eyes, nose and mouth.
Stay home if you are sick. Do not go to work or class.
Cover your cough or sneeze with a tissue, then throw the tissue in the trash.
Learn what factors to consider
before you go out, which varies based on your vaccination status. Remember: Your activities can directly impact the safety and well-being of your friends, neighbors and colleagues.
COVID-19 Isolation and Quarantine Guidelines
I've tested positive for COVID-19, what do I do?
Report your positive test result via the CMICH Healthscreen app or website.
Regardless of your vaccination status, you should isolate:

If you have symptoms: Isolation may end after five days if:

You are fever-free for 24 hours (without the use of fever-reducing medication) AND
Symptoms are improving AND
With proof of a negative antigen test** emailed to covidtracing@cmich.edu AND
You wear a mask around others for an additional five days.

If you have no symptoms: You must isolate for at least five (5) days. Isolation can end with proof of a negative antigen test** emailed to covidtracing@cmich.edu and if a mask is worn for an additional five days.

The negative test result must be emailed to covidtracking@cmich.edu.

Antigen test kits will be provided to residential students who are isolating on campus.
Individuals who live off-campus are responsible for completing an antigen test before returning to campus. Antigen tests are available through many pharmacies and health centers — do not come to campus to get tested following isolation.
I've been exposed to someone who is COVID-19 positive, what do I do?
Report your close contact via the CMICH Healthscreen app or website.
If your vaccination status is up to date and you're asymptomatic: You are not required to quarantine but you should get tested 3-5 days after exposure, even if you don't have symptoms. Wear a mask indoors in public for 10 days following exposure.
If you're and asymptomatic and not vaccinated or have not yet updated your vaccination status with a booster: You may end your quarantine period after five days with proof of a negative antigen test result**. The negative test result must be emailed to covidtracking@cmich.edu. Wear a mask indoors in public for 10 days following exposure.

**While updated CDC guidelines do not include a negative test after five days of quarantine for asymptomatic people, this is an additional safeguard at CMU to help protect against the omicron variant.

Quarantine for unvaccinated students living in residence halls or on-campus apartments:
I have COVID-19 symptoms, what do I do?
Faculty, Staff or Student Employee
If you feel unwell while on campus or at another CMU location and show any symptoms related to COVID-19 not due to an underlying chronic health condition, your supervisor may direct you to go home. If your symptoms suggest COVID-19, the supervisor must immediately email covidtracking@cmich.edu to report a possible case of infection in their area.
If a faculty member, staff member or student employee believes they have contracted COVID-19 after exposure to a known COVID-positive person while working on campus, they must report the exposure to the CMU Workers' Compensation office at 989-774-7177 as soon as possible.
Mandatory Daily Self-Screening
CMU requires every member of the university community, including students, faculty, staff and visitors, to self-screen each day for symptoms of COVID-19 before coming to CMU's main campus or a satellite location or participating in CMU-sponsored activities.
How to Complete Daily Self-Screening
Each day you come to campus or to any CMU satellite location, you must first answer a few brief questions using one of the following options:
Your Mental Health
Resources for students
The CMU Counseling Center offers free, confidential support for students in individual appointments, as well as group activities. To make an appointment, call 989-774-3371.
If you need health care, you may contact CMU Student Health Services, located in Foust Hall. Call 989-774-6599 before visiting the clinic.

Visit the CMU Student Activity Center and learn about wellness programs available through CMU University Recreation.
Resources for faculty and staff
Encompass, CMU's Employee Assistance Program provider, has several resources for health and wellness information, counseling, coaching and more.
Learn more about health and wellness resources by visiting the CMU Employee Wellness Program webpage.