Auditions for Music Majors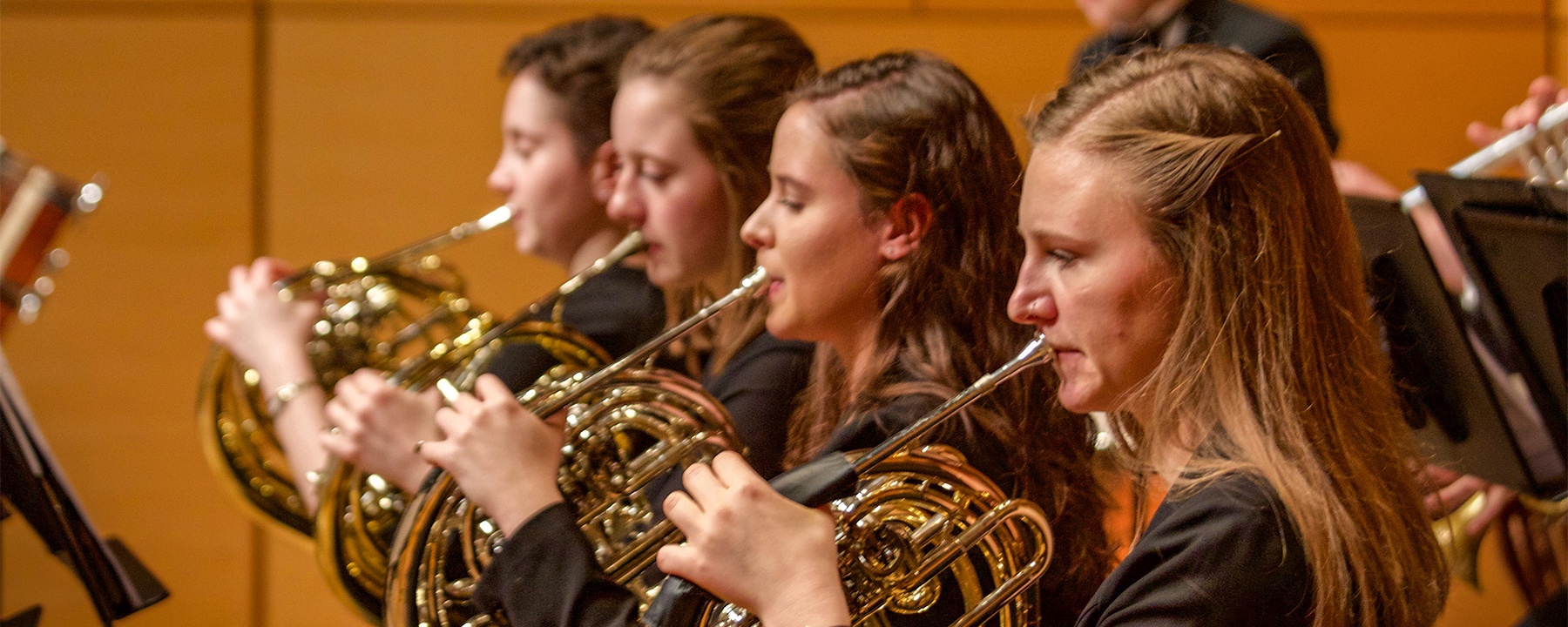 Most of 2022 instrumental ensemble auditions will take place virtually. If auditions are open, an online submission form and additional information will be available further down on this page. Auditions for Chamber Singers will take place in person. There is no audition for Concert Choir.
Available Ensembles
Placement in ensembles is open to all CMU students (music majors and non-majors) by audition. Available ensembles include:
Symphony Orchestra
Symphony Band
Wind Symphony
Symphonic Wind Ensemble
Concert Choir
Chamber Singers
General Information for Choral Auditions
The CMU Choral Department continues to grow in number and diversity. We offer an ensemble for virtually any kind of singer, regardless of age, experience or development. One unique aspect of choral singing at CMU is that all the ensembles get the opportunity, each semester, to sing together. Whether it's an anthem, octavo, or major work, we make sure to celebrate the act of singing and to do so altogether. All the choirs at CMU rehearse weekly and perform concerts each semester.
If you are planning to audition for the Chamber Singers ensemble, the audition will be more involved, and that will be made quite clear in the instructions within the email. This audition will not determine whether someone sings in a choir at CMU, it will only determine which choir.
There is a sign-up sheet posted across from Dr. Eady's office, MU 172. If you are out of town until the weekend of auditions, please have a friend sign you up or contact Dr. Eady to reserve a specific day and time. These are 5–7-minute auditions. If you have any questions at all concerning these auditions, or anything else pertaining to choirs at CMU, please do not hesitate to contact Dr. Eady at eady1ca@cmich.edu or 989-774-3391.
General Information for Band & Orchestra Auditions
Spring 2022: Audition information to come.

Creating Your Video
We ask that you send an unedited video of no longer than 9 minutes of playing (12 minutes for graduate strings) by the above deadlines. When creating your video, make sure you state your name, year at CMU, and major prior to playing. Videos should be uploaded as unlisted YouTube videos, or available through a URL.
Band Information
Welcome to the CMU concert bands! We're excited to have you with us. This fall the Symphonic Wind Ensemble (SWE), conducted by Dr. Christopher Chapman; the Wind Symphony (WS), conducted by Dr. James Batcheller; the Symphony Band (SB), conducted by Dr. Christopher Chapman, and the University Band, conducted by Hope Spaw, will be rehearsing and performing this fall semester.
Celebrating its 99th year, the CMU Bands has established itself as one of the finest band programs in the country. Performing quality literature at a professional level is a hallmark of our success, and a product of the quality work put in by our students over the many years. We look forward to continuing this tradition of success this year and look forward to working with each of you.
Concert Band Audition Material
Students auditioning for the CMU concert bands (SWE, WS, SB) will need to prepare a short concert piece, sonata, or etude/s of their choice. If not auditioning for the orchestra, students do not need to prepare the orchestra audition music. Auditioning percussionists will need to sign up for an audition time with Dr. Spencer. Those wishing to perform in the University Band need not audition.
Symphony Orchestra Information
Welcome to the CMU Symphony Orchestra! We are looking forward to an exciting year of great performances. In addition to the music of Max Bruch, Pyotr Ilyitch Tchaikovsky, Jean Sibelius, Manuel De Falla and others, the orchestra will be performing pieces by American composers John Corigliano, Norman Dello Joio, Florence Price, and African British composer Samuel Coleridge-Taylor. CMUSO will also premiere a piece written by Composition Competition winner Alex Prout and will join forces with CMU Opera to perform Puccini's Gianni Schicchi. Our soloists this year will be faculty artists Jamie Fiste (cello), Marybeth Minnis (bassoon), and the winner of the concerto/aria competition. Once again, we will use a configuration that will allow for social distancing and the necessary safety measures as implemented last year. We look forward to your audition!
Orchestral Audition Excerpts
Please adhere to the deadlines above and follow the instructions to create your video. You may submit all your audition pieces in one video or as a video playlist.
For your audition, please prepare the following:
A solo piece of your choice: Preferably, a movement from a standard concerto or sonata, or a concert/solo piece that highlights your musical ability (tone, phrasing, technique, musicality, etc.)
Orchestral excerpts (for orchestra auditions only): Excerpts are posted below and marked for your convenience and fairness (no substitutions). Play bracketed passages only. You will be expected to know how to perform each excerpt expressively using appropriate dynamics, tempo, and style.
Note: All string players are expected to audition for the symphony orchestra. All graduate string students are expected to audition for a principal position. Undergraduate violinists interested in auditioning for concertmaster must prepare the graduate excerpts.
​Percussionists
See Dr. Andrew Spencer for audition materials.