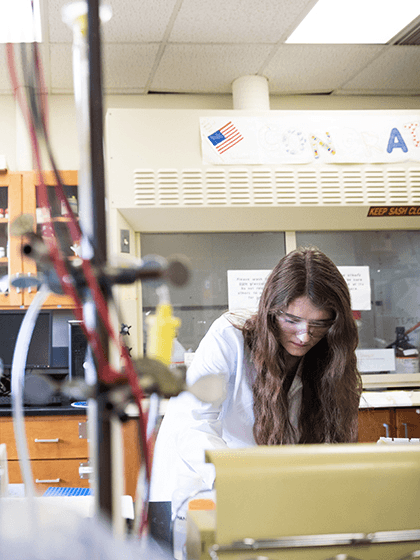 Biochemistry, Cellular anb Molecular Biology
The Biochemistry, Cellular and Molecular Biology Ph.D. and M.S. graduate programs at Central Michigan University provide research-based multidisciplinary training in diverse aspects of biological, biochemical, and biomedical sciences.
Why BCMB at Central Michigan University?
Conduct high-impact, original research with award-winning faculty mentors in state-of-the art facilities, all while residing in the beautiful (and affordable) state of Michigan. Click the link above to learn more about the distinctive strengths of BCMB at CMU.
M.S. Program
Students complete the M.S. program in approximately 2 years. The combination of advanced course work and research experience prepares students for Ph.D. programs, schools in the health professions (e.g., medical school), or jobs in biotechnology.
Ph.D. Program
The Ph.D. program provides an in-depth research experience over approximately 5 years. Students graduating with a Ph.D. may go onto careers in academia, industry, or other fields that draw on the knowledge and skills acquired during their graduate work.
Admission Requirements
Minimum requirements for applicants for the BCMB Ph.D. and M.S. programs are listed below. In some cases, a deficit in a single area may be compensated for by a clear superiority in another area.
Bachelor's degree in Biology, Chemistry, Biochemistry, or a related discipline
Overall GPA of 3.0 and major GPA of 3.0
A strong background in basic sciences including biology, chemistry, and mathematics
International students must demonstrate English proficiency

Research experience is strongly preferred for the BCMB Ph.D. program
Applications
The application process is the same for both the BCMB Ph.D. and M.S. programs. Students with a bachelor's degree may apply to either the M.S. or Ph.D. program, however students with limited research experience should consider the M.S. program first.

Complete applications received by January 10 till be considered for admission into the program the following fall semester. In some cases, applications may be considered after the January 10 deadline provided that: (1) the prospective student has identified a potential mentor, and (2) the mentor has requested an exception to the standard admissions timeline.
Only applications with all required documents and forms completed will be reviewed. Only students who have been successfully matched to faculty will be considered for admission.
For applications received by January 10, letters recommending admission will be sent by March 15 each year. The deadline for accepting offers of admission is April 15.
Required Materials
Applications are submitted in three parts. All three parts must be submitted by the deadline for an application to be considered.
Part I: CMU graduate application, official transcripts for any Bachelor's degrees, & Application fee
Part II: Send a single email to BCMB@cmich.edu including: BCMB application, CV/Resume, and Unofficial copies of transcripts
Part III: Three (3) letters of recommendation must be emailed directly from the letter-writers to BCMB@cmich.edu.Letters should be written by people who know you in an academic and/or research setting. Letters should include your name and which program you are applying for (BCMB MS or BCMB PhD).Letters should address your research ability, academic ability, communication skills, and ability to work with other people.
Optional: GRE, MCAT, or other similar test scores may be submitted. Send your scores to CMU (Institution Code: 1106; Department Code: 0203).
Financial Support
Graduate students in the BCMB programs are typically supported through a combination of teaching and research assistantships. Graduate teaching assistantships (GTAs) and graduate research assistantships (GRAs) are service-related appointments that require teaching or research, respectively. Through an assistantship, you will receive a stipend, resident (Michigan) tuition rates, a tuition waiver, travel accident insurance, and special library privileges. During the application process, you will work with your faculty sponsor to develop a funding plan that outlines how you will be supported for each semester of the program.
Biochemistry, Cellular and Molecular Biology Program
Central Michigan University
Biosciences 2100 Mount Pleasant, MI 48859
989-774-3363
BCMB@cmich.edu
Graduate Admissions
Central Michigan University
802 Industrial Drive
Mount Pleasant, MI 48859
989-774-GRAD
grad@cmich.edu
Office of International Affairs
Central Michigan University
Ronan Hall 330
Mount Pleasant, MI 48859
989-774-4308
oiainfo@cmich.edu