Michigan Geographic Alliance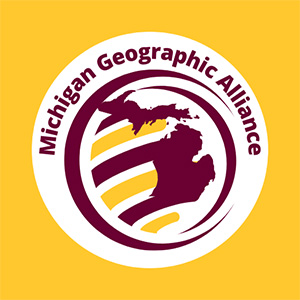 The purpose of the Michigan Geographic Alliance is to strengthen geography and environmental education in Michigan. Supported by Central Michigan University's Department of Geography and Environmental Studies. Our efforts are funded by donations, grants and the K-12 Geography Education outreach endowment.
What do we do

Professional Development Workshops & Activities
Educational Resources
Giant Traveling Maps
Family Geography Night and BioBlitz Kits
GeoHistogram Kits

---
The Michigan Geographic Alliance (MGA) was founded in 1989 as part of the National Geographic Society's national network of geographic alliances by Dr. Michael Libbee from Central Michigan University, and Dr. Joseph Stoltman of Western Michigan University. The MGA has been headquartered in the Department of Geography and Environmental Studies at Central Michigan University since its inception. Supported by initial funding from the National Geographic Education Foundation, the State of Michigan and the W.K. Kellogg Foundation, the MGA has operated for over 30 years with continued support from the Connie Binsfeld Endowment in Geographic Education.
The Michigan Geographic Alliance has formed a network of teachers, geographers and educators who are committed to using geographic content and skills to improve the educational experiences of Michigan students. Our trained teacher consultants are actively involved in assisting school districts and individual teachers attain skills to assure students are proficient in geographic knowledge and skills.