Basketball Classes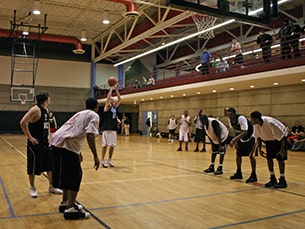 Basketball is a team sport, the objective being to shoot a ball through a horizontally positioned basket to score points while following a set of rules. Usually, two teams of five players play on a marked rectangular court with a basket at each width end. Basketball is one of the world's most popular and widely viewed sports.
Basketball at CMU:
Our Basketball courses are taught by staff members on the collegiate basketball teams or former players who have extensive experience. We offer classes for people who want to learn the sport and for those who want to get ready for their next intramural/extramural competition!
PED 170 Fundamentals of Basketball
​Development of basic skills needed to play basketball.

Credits 1(Spec)

Contact Hours (Spec)
PED 270 3-on-3 Basketball
​Development of skills needed to play 3-on-3 basketball. Recommended: PED 170.

Credits 1(Spec)

Contact Hours (Spec)
Disclaimer: Course availability is subject to enrollment and may not be offered every semester. Check the current course search and registration for updated availability.