Disc Golf
Disc Golf is a flying disc game in which individual players throw a flying disc at a target. According to the Professional Disc Golf Association, "The object of the game is to traverse a course from beginning to end in the fewest number of throws of the disc." The number of disc golf courses has more than doubled in eight years from 2000 to 2008. The game is played in about 40 countries around the world.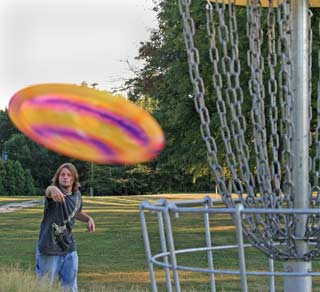 Disc Golf at CMU:
Our disc golf class meets at the local UREC course on campus and also at the course at Deerfield Park, just eight miles from campus and may require personal transportation arrangements. This course is designed to teach participants the skills and knowledge required to be successful for years to come. This is a great activity and is a wonderful way to get out and enjoy the beautiful weather Michigan has to offer, as disc golf can be performed in any weather. Our instructor has national level competitive experience and actually designed the Deerfield Park course. He has turned this class into one of the best classes our program has to offer. Discs are required to participate, but you may want to consult your instructor the first week of class to see what they recommend. Check CMU registration for current class information.
PED 131 Disc Golf
A course designed to provide students with skills and knowledge to participate in disc golf. Students must furnish own discs made specifically for disc golf.

Credits 1(Spec)

Contact Hours (Spec)


Disclaimer: Course availability is subject to enrollment and may not be offered every semester. Check the current course search and registration for updated availability.