Fitness for Life
Physical fitness has been defined as a set of attributes or characteristics that people have or achieve that relates to the ability to perform physical activity. This includes a multi-dimensional state of well-being that includes health and skill related components.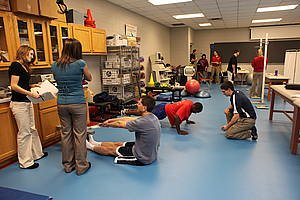 Fitness for Life at CMU:
Physical fitness for life at CMU is one class every student should take. It provides students with the ability to test, study and monitor their own physical fitness and the 11 components that comprise it. Students get hands-on experience testing themselves and others. They learn skills and concepts that cover everything from body composition to nutrition to speed and reaction time. Learning how to plan and adopt a healthy lifestyle is the main goal. Students learn self-management skills like time management, stress reduction, goal-setting, and many others. These couldn't be more beneficial for a college students through older adults. There are many sections available every semester to fit your busy schedule. Check CMU class registration for current class information.
PED 137 Fitness Walking
Course will introduce fitness walking designed for students who want to begin a program to improve their cardiovascular endurance and learn basic fitness training principles.

Credits 2(Spec)

Contact Hours (Spec)


PED 186 Physical Fitness for Life
​Credits 2(2-0)

Contact Hours (2-0)
Disclaimer: Course availability is subject to enrollment and may not be offered every semester. Check the current course search and registration for updated availability.