S.C.U.B.A.
Scuba diving is a form of underwater diving in which a diver uses a self-contained underwater breathing apparatus to breathe underwater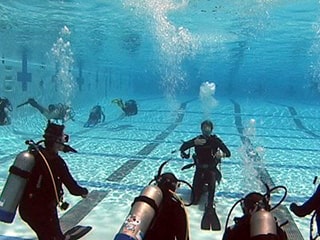 S.C.U.B.A. at CMU:
This is one our most exciting classes offered in the PED program, let alone CMU! Students get actual dive equipment, spend time in three different pools to gain the certifications necessary to use SCUBA equipment. The entry-level course will give students basic certification. The second class in the series is designed to certify students to dive in open water and is the perfect addition to the beginner's certification. This class meets off-site, at a dive site that gives students a look at the natural underwater habitat and the occasional plane wreck! Each class does have fees and specific equipment and the instructor will give you all the information you need.
PES 120 Skin and Scuba Diving
Students are taught safe skin and scuba techniques. Students provide their own, approved, snorkeling equipment. Course fee required for equipment rental, use, and certification costs. 

Credits 1(Spec) 
Contact Hours (Spec)
Disclaimer: Course availability is subject to enrollment and may not be offered every semester. Check the current course search and registration for updated availability.