Yoga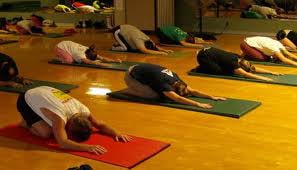 Yoga (Sanskrit, Pāli: योग, /ˈjəʊɡə/, yoga) is a commonly known generic term for physical, mental, and spiritual disciplines which originated in ancient India.
Yoga at CMU:
We offer many types of yoga for all levels. Our instructor is the only one in the area nationally certified to teach the traditional methods of Hatha yoga (the original style). Each class offers a unique perspective on how yoga can positively influence your life. Most classes have a course fee that includes an appropriate mat and blanket at a discounted price. Other classes require these materials. You don't need to be flexible or have high cardiovascular fitness, you just need time and a body! You will be amazed at what you can learn about yourself! Receive the same thorough instruction that millions have received for thousands of years. Commit to learning the trade with an eight-week or 16-week class and learn the skills to improve YOU!
PED 143 Yoga Sculpt
Yoga Sculpt is a dynamic flow yoga style course that takes students to their athletic edge with challenging strength and balance poses based on core-generated alignment.

Credits 1(1-0)

Contact Hours (1-0)
PED 146 Yoga: Beginning
This course focuses on the fundamentals of yoga through the practice of basic yoga postures and essential yoga breathing techniques.

Credits 1(Spec)

Contact Hours (Spec)
PED 147 Introduction to Fitness Yoga
This course focuses on yoga as a system of regular exercise to improve physical fitness.

Credits 2(Spec)

Contact Hours (Spec)
PED 148 Yoga for Wellness
This course focuses on the specific application of yoga poses and techniques to address various health and wellness issues.

Credits 2(2-0)

Contact Hours (2-0)
PED 149 Yoga and Meditation
This course focuses on yoga and meditation techniques to relax and revitalize the mind and body.

Credits 2(2-0)

Contact Hours (2-0)
PED 246 Yoga, Intermediate
​This course focuses on strengthening the yoga practice of students who have had previous experience with the basic foundations of yoga. Recommended: PED 146, 147, 148, 149, or previous yoga experience.

Credits 1(Spec)

Contact Hours (Spec)
Disclaimer: Course availability is subject to enrollment and may not be offered every semester. Check the current course search and registration for updated availability.