Bernie Kerr
Bernie Kerr, MHA, Ed.D., FACHE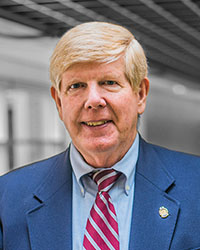 Professor, Director of MHA
Central Michigan University
618-233-0796
kerrj1bj@cmich.edu

Dr. Bernie Kerr is a Professor in Central Michigan University's (CMU's) Health Administration Division, School of Health Sciences, in The Herbert H. and Grace A. Dow College of Health Professions, and serves as Director of the Master of Health Administration Program. He teaches primarily in the Doctor of Health Administration (DHA) Program. Immediately prior to joining the faculty, Dr. Kerr was a Colonel in the United States Air Force Medical Service Corps, serving as a professional health care administrator for over 20 years. He has over 40 years experience in the healthcare industry, including positions in public health, academia and the military health system. His academic credentials include a bachelor of science in health education and master's degrees in public health (MPH), health administration (MHA), business administration (MBA) and information management (MIM). He holds a doctor of education (Ed.D.) in Curriculum and Instruction and the Instructional Process and a graduate interdisciplinary certificate in Gerontology. He also completed a post-doctoral fellowship in managed health care. Dr. Kerr's experience includes leadership roles in medical resource management, patient administration, medical informatics, public health education, managed health care and medical readiness. He has held faculty appointments at Baylor University and East Tennessee State University and served as a Fellow and Senior Fellow with the Accrediting Commission on Education for Health Services Administration. His professional awards include two selections as Young Health Administrator of the Year, the Leader's Award from the Washington University Information Management Program, three selections for the American College of Healthcare Executives Senior Leader Regent's Award and 2008 and 2013 Service Awards from the ACHE. He was named a Distinguished Alumnus in Health Education by his undergraduate degree program at East Tennessee State University in 1989. His honoraria include Eta Sigma Gamma, Kappa Delta Pi, Phi Kappa Phi and Beta Gamma Sigma. His military awards include the Meritorious Service Medal with four oak leaf clusters, the Air Force Commendation medal, the Air Force Achievement Medal with four Oak Leaf Clusters, the Humanitarian Service Medal and the Military Outstanding Volunteer Service Medal. Dr. Kerr was a 2007 recipient of CMU's Excellence in Teaching Award, the highest teaching honor bestowed by the university. In 2015 he received CMU's Faculty Distinguished Service Award honoring faculty members whose record of sustained service to the University and/or profession has been particularly distinguished. In 2021, Dr. Kerr received the Student's Choice Faculty Excellence in Teaching Award. He is a board-certified healthcare executive and a Fellow in the American College of Healthcare Executives. He and his wife Sue, a retired Kindergarten teacher, have four grown children (Brian, Brad, Brent & Brittney), four grandsons (Brice, Brady, Braxton & Brandon) and two granddaughters (Brenna & Bellamy).