Kimberley Gribben
Kim Gribben, MBA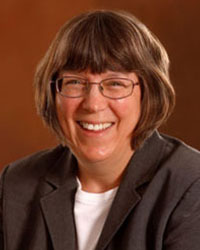 Assistant Director, MSA Program
Central Michigan University
989-774-2367
gribb1kd@cmich.edu

Kim is the Assistant Director of the Master of Science in Administration (MSA) program at Central Michigan University and has been with the program for over 20 years. Kim provides student support in the areas of graduate transfer credit approvals, research approvals, and program plan approvals. Kim has conducted numerous curriculum evaluations of military educational programs from institutions such as U.S. Army Command and General Staff College, Army Management Staff College, Defense Acquisitions University, and Marine Corps Command and Staff College. Kim works closely with the MSA director and faculty on curriculum development.

Kim has twice been selected as a recipient of CMU's Staff Excellence Award. The Staff Excellence Award Program recognizes and rewards dedicated staff who routinely and regularly demonstrate in an outstanding way their commitment to and support of the University's Service Excellence Values: Care, Knowledge, Availability, and Follow Through.

Kim received her MBA from Central Michigan University as well as an undergraduate degree in Psychology.