Sandra Collins
Sandra Collins, Ph.D.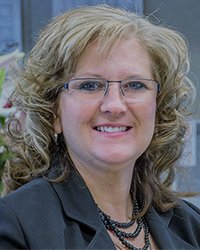 Program Director, Professor
Southern Illinois University Carbondale
618-453-8802
skcollin@siu.edu

Dr. Sandra Collins is a Professor at Southern Illinois University Carbondale (SIUC). She currently serves as the Program Director for the Bachelors of Health Care Management, the Masters of Health Administration, and the Masters of Health Informatics. Dr. Collins teaches in both the undergraduate and graduate level programs in areas predominately related to ethics, human resources, coding/compliance, and organizational behavior. Prior to entering the field of academia, Dr. Collins served in varying administrative roles within the healthcare administration field. She holds a bachelor's degree in workforce education and development, a master's degree in business with a specialization in management of information systems, and a doctoral degree in workforce education and development. She has served as a program reviewer for the Association of University Programs in Health Administration and is the recipient of the prestigious E.J. and Mary C. Simon Distinguished Faculty Award authoring approximately 90 peer-reviewed publications and/or professional presentations. Program development and online education are among her most prevailing areas of interest which can be demonstrated through her involvement in the development and instruction of varying courses in the online Master's degree in Medical Dosimetry. Furthermore, she developed and implemented the online Bachelor's degree in healthcare management which offers students two minor degree options (long-term care administration and health information/informatics management) which are also offered in the online format. These accomplishments, along with her creation, implementation, and oversight of the online Masters of Health Informatics and the Masters of Health Administration (which is one of the SIUC's leading graduate programs) places Dr. Collins among the top revenue generating faculty members at SIUC.