Stephen Waldhoff
Stephen Waldhoff, DHA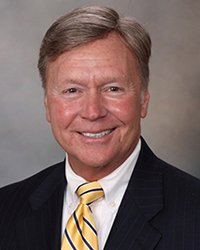 Emeritus Mayo Clinic Administrator
waldhoff.stephen@gmail.com

Dr. Stephen Waldhoff joined the Mayo Clinic in 1984 as a hospital and clinic administrator. During his thirty-four years of service, he served in numerous senior leadership positions, providing support and direction throughout the organization.
He retired in April 2018. Waldhoff earned a Doctoral Degree from Central Michigan University, along with a Master's and Bachelor's Degrees from the University of Minnesota. He is also a Fellow in the American College of Healthcare Executives where he served in a variety of leadership capacities, including terms on the Board of Governors, Council of Regents, and ACHE-MN Chapter President. Dr. Waldhoff also served on a variety of community and state non-profit boards of directors, acting as an officer and receiving leadership awards. Dr. Waldhoff and his wife Christi make their home in Scottsdale, Arizona where they enjoy golfing, sailing, and equestrian sports. They have two adult children, Amanda and Hillaree.