Stonish Pierce
Stonish Pierce, FACHE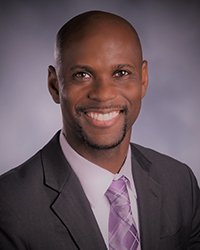 Chief Operating Officer
Holy Cross Health (Trinity Health)

Stonish Pierce, FACHE is a nationally recognized board-certified healthcare executive with diverse clinical and leadership experiences in acute and ambulatory operations spanning not-for-profit, public, private, government, academic/teaching and faith-based hospitals, integrated delivery systems & for-profit physical therapy sectors.

A sought-after advisor, healthcare consultant and public speaker, his broad
leadership experiences span four states and five distinct health care markets. Mr. Pierce has served in progressive leadership capacities with Florida-based Holy Cross Health (Trinity Health), Michigan-based Beaumont Health, Chicago-based Presence Health (Ascension), San Diego-based Palomar Health (Mayo Care Network) and the VA Medical Center, Los Angeles.

Mr. Pierce earned his Bachelor of Science degree in Kinesiology and his Master of Health Administration degree with a graduate certificate in management, all from the University of Southern California (USC). Mr. Pierce is a four-time recertified Fellow of the American College of Healthcare Executives (FACHE), a recipient of ACHE's regional Early Career Healthcare Executive and Distinguished Service Awards, the USC Price School's 90 Pioneers of 90 Years award and was named one of the Top 25 Emerging Leaders by Modern Healthcare in 2021.