William Wuenstel
Dr. William Wuenstel, DHA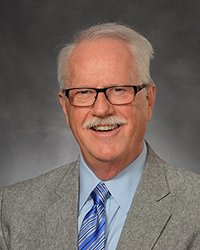 Off-Campus Adjunct Faculty
Central Michigan University
352-816-7553
wuens1wg@cmich.edu

Dr. William G. Wuenstel is a medical social scientist and adjunct professor of health administration and clinical research for The Herbert H. and Grace A. Dow College of Health Professions, Central Michigan University. He was previously clinical director and administrator of three service lines, critical care, cardiovascular services and Renal/Medical, at a multi-center tertiary hospital system. Dr. Wuenstel teaches courses in health service organizations and systems, health planning, quality improvements in health services, healthcare administration, healthcare finance, ethical compliance, and clinical research. His publications include journal article on end-of-life issues, type 2 diabetes and applying principles of behavioral science in the treatment of diabetes. He continues performing clinical work at the Veteran Administration Hospital division of Endocrinology. In addition, he currently serves as a director for the NGO Heart to Heart and worked with ProWorld Service Corps and Heart to Heart in Belize on service learning projects for students. He completed his master's degree in business in health care at Webster University and his Doctor of Health Administration and a post-doctoral certificate in International Health at Central Michigan University. His current focus is on the application of behavioral principles and social science interventions that can assist practitioners in treating patients and family members with chronic diseases in various health care organizations. Dr. Wuenstel has been a guest lecturer at Indiana University, and Central Michigan University on various topics that address the benefits of utilizing behavioral principles and social science as a method of influencing life-style changes.