Athletic Training BSAT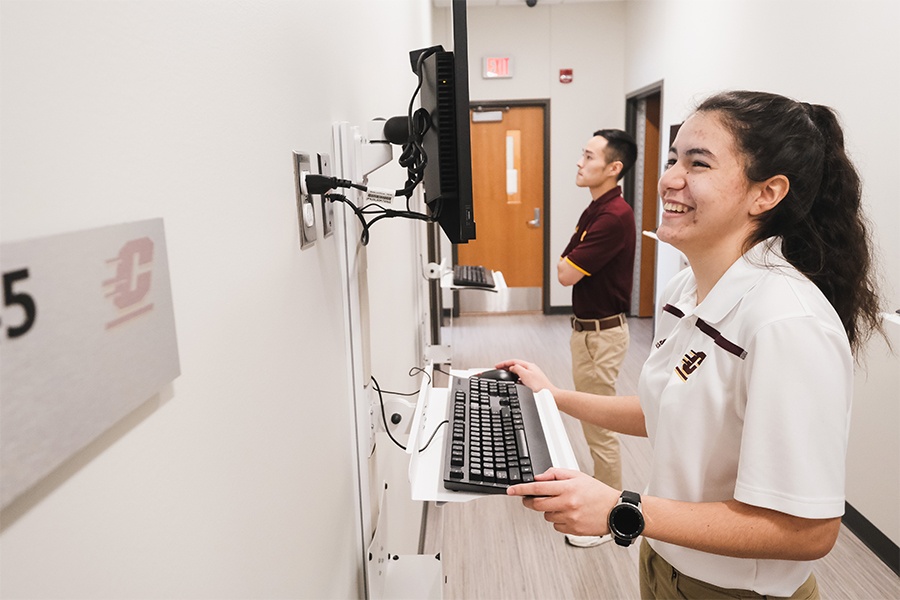 The Athletic Training major is a concentrated area of study that prepares students to enter the athletic training profession. In February 2015, the athletic training program was sited compliant on 109 out of 109 standards and granted 10 years of continuing accreditation by the Commission on Accreditation of Athletic Training Education (CAATE). This athletic training program includes classroom, laboratory instruction and clinical field experiences designed to prepare entry-level certified athletic trainers. Upon completion of this program of study students will be awarded a Bachelor of Science in Athletic Training (B.S.A.T.) Degree and are eligible to apply for the Board of Certification (BOC) national examination to become a BOC certified athletic trainer (ATC).
Information for Students
Freshmen students entering in the Fall of 2019/Spring 2020 will be the last students to enter into the Athletic Training bachelor's degree program. Beginning in Fall 2020, the Athletic Training program is moving to a Master's degree (M.S.A.T.) which will be required soon. Attached is a list of frequently asked questions regarding the program.
The Athletic Training Major is structured into two phases: pre-professional phase and professional phase. Selection to this undergraduate program (as well as many other nationally accredited programs) is very competitive and the number of applicants exceeds the number of students who can be selected to the professional phase. The selection process will likely take the student a minimum of three semesters to complete. However, it could take a student longer than three semesters to meet selection criteria. Each student's progression through the selection process may vary. Students must complete all pre-professional courses, as well as specific selection criteria and the ability to meet program Technical Standards before selection to the professional phase can be completed. A maximum of sixteen students per semester is selected to the professional phase of the athletic training education program. Those students not selected for the professional phase may apply one more time in a subsequent semester. After being selected, the student must complete four semesters of professional coursework. Students cannot enroll in many of the courses until selected into the program. In addition to the coursework, the student will have a variety of clinical education experiences, which may include working with various athletic teams at the collegiate and high school level, physically active individuals in CMU's recreational facility, physical therapy/fitness clinics, physician offices and emergency rooms. The Athletic Training Major and course descriptions may be found in the Undergraduate Academic Bulletin.
Current CMU students that are contemplating this major and have not begun the selection courses are strongly encouraged to meet with an athletic training faculty advisor, as soon as possible upon their decision to pursue this major to gather information needed to make an informed decision.

Why study athletic training at CMU?