Admissions, Outcomes, and Other Data for School Doctoral
Admissions data
| | 2011-2012 | 2012-2013 | 2013-2014 | 2014-2015 | 2015-2016 | 2016-2017 | 2017-2018 | 2018-2019 | 2019-2020 | 2020-2021 |
| --- | --- | --- | --- | --- | --- | --- | --- | --- | --- | --- |
| Number of applicants | 25 | 22 | 28 | 25 | 19 | 18 | 15 | 20 | 15 | 15 |
| Number offered admission | 5 | 9 | 17 | 9 | 9 | 7 | 7 | 7 | 5 | 6 |
| Number matriculated | 5 | 2 | 6 | 5 | 3 | 4 | 4 | 3 | 1 | 4 |
| Number of incoming students receiving an assistantship that includes a full waiver of tuition | 5 | 2 | 6 | 5 | 3 | 4 | 4 | 3 | 1 | 4 |
Time to completion


Open the Psychology School Doctoral Time to Completion Data (pdf)
Those entering with a MA/MS degree in School Psychology will be required to complete approximately 70 graduate hours. Students are required to complete at least two years of academic training at Central Michigan University. The following courses must be completed while enrolled at Central Michigan University: PSY 767, PSY 890/891, PSY 898/899, and PSY 990/991. At least 50 percent of the minimum post-baccalaureate hours for a doctoral degree must be completed at Central Michigan University. Any credits more than 10 years old at time of graduation will not be accepted towards meeting degree requirements.
Program costs

| Description | 2021-2022 1st-Year Cohort Cost |
| --- | --- |
| Tuition for full-time students (in-state)(Based on 24 credits/year) | 18,672 |
| Tuition for full-time students (out-of-state) | 18,672 |
| Tuition per credit hour for part-time students (if applicable enter amount; if not applicable, enter "NA") | NA |
| University/institution fees or costs | 450 |
| Additional estimated fees or costs to students (e.g. books, travel, etc.) | 630 |
Due to budget constraints, we currently are unable to offer funding for graduate students admitted during the 2021-2022 academic year. Tuition and fees for the first year of the program is estimated at around $20,830. We continue to seek additional sources of funding which we hope will allow us to fund students in the future.
Licensure
| | |
| --- | --- |
| Outcome | 2011-2021 |
| The total number of program graduates (doctoral degrees conferred on transcript) between 2 and 10 years ago | 22 |
| The number of those graduates (between 2 and 10 years ago) who became licensed psychologists in the past 10 years | 18 |
| Licensure percentage | 82% |
Internship placement
Internship Placement - Table 1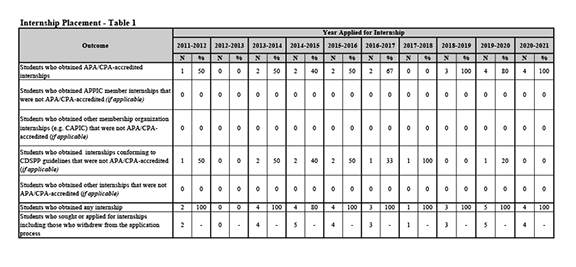 Open the Internship Placement Table 1 for the School Psychology Doctoral Program (pdf)
Internship Placement - Table 2

Open the Internship Placement Table 2 for the School Psychology Doctoral Program (pdf)
Internship sites 2011-2021
| Internship Placement | Academic Year |
| --- | --- |
| Cypress-Fairbanks ISD, Cypress, TX (two placements) | 2021 |
| Kennedy Krieger/Hopkins/Beha Psych & Neuropsych, Baltimore, MD | 2021 |
| Cedar Springs Public Schools, Cedar Springs, MI | 2021 |
| Community Mental Health for Central Michigan, Mt. Pleasant, MI | 2021 |
| Partners in Change, Midland, MI | 2021 |
| Eaton RESA, Charlotte, MI | 2020 |
| Virginia Beach City Public Schools, Virginia Beach, VA | 2020 |
| Nebraska Internship Consortium, Munroe-Meyer Institute Behavioral Pediatrics, Lincoln, NE | 2020 |
| Deer Valley School Psychology Internship, Avondale Elementary School District, Avondale, AZ | 2020 |
| Colorado Psychology Internship Consortium, Eagle Valley Behavioral Health, Aurora, CO | 2020 |
| Nebraska Internship Consortium, Munroe-Meyer Institute Behavioral Pediatrics, Lincoln, NE | 2019 |
| Tennessee Internship Consortium in Psychology, Loudon, TN | 2019 |
| The Children's Center-Salt Lake, Salt Lake City, UT | 2019 |
| Jackson County ISD, Jackson, MI | 2018 |
| Nebraska Internship Consortium, Munroe-Meyer Institute Rural Integrated Care, Lincoln, NE | 2017 |
| Saginaw Public Schools, Saginaw, MI | 2017 |
| Virginia Beach City Public Schools, Virginia Beach, VA | 2017 |
| Bay-Arenac ISD | 2016 |
| Nebraska Internship Consortium, Lincoln, NE | 2016 |
| Jordan School District, West Jordan, UT | 2016 |
| Integrated Behavioral Health and Pediatric Psychology Internship UofM, Ann Arbor, MI | 2016 |
| Nebraska Internship Consortium | 2015 |
| Nationwide Children's Hospital | 2015 |
| University of Michigan Department of Pediatrics | 2015 |
| Children's Hospital of Philadelphia | 2014 |
| Illinois School of Psychology Internship Consortium | 2014 |
| University of Michigan Department of Pediatrics | 2014 |
| Grand Rapids Public Schools, Grand Rapids, MI | 2012 |
| Munroe-Meyer Institute, Omaha, NE | 2012 |
| Kennedy Krieger Institute, Baltimore, MD | 2011 |
| Munroe-Meyer Institute, Omaha, NE | 2011 |
​Tuition rates
All graduate assistants receive resident tuition (whether they are international or domestic students).
Military – Central Michigan University's resident tuition policy says that a student would be considered a resident for tuition purposes if the student or spouse "is stationed in Michigan on regular active duty with the military."