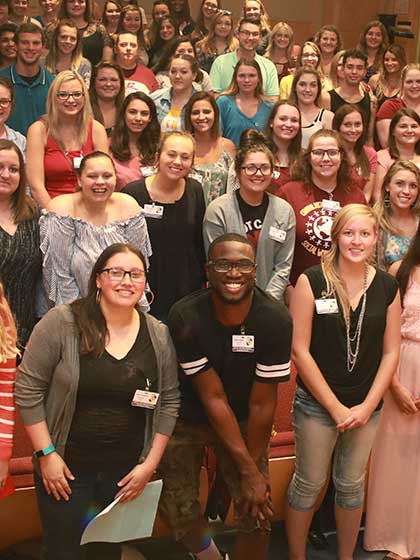 Social Work
Never doubt that a small group of people can change the world!
Central Michigan University's social work curriculum is designed for students intending to graduate with a Bachelor of Social Work (BSW) degree. This is an accredited four (4) year degree at the bachelor level with which graduates can obtain a professional license in Michigan and/or advanced standing for graduate study in social work. Class sizes are kept small to allow for discussion and group interaction and to meet accreditation standards. At this time, there is not an MSW program at CMU. There are a number of MSW Programs in Michigan.​​
Social Work Program | Anspach Hall 034 | 989-774-2690 | swk@cmich.edu | Office Hours: Monday - Friday, 8 a.m. - noon and 1 - 5 p.m.
Learn more about a Social Work Degree
About us

The mission of the Central Michigan University Social Work Program, working from a strong liberal arts base, is to prepare students for generalist social work practice. The program develops and enhances critical inquiry and ethical decision-making in practice. The program provides students with the knowledge base and flexibility to work, live and pursue economic, environmental and social justice in a diverse and global society. It promotes growth and empowerment of individuals, families, groups, organizations, and communities with an emphasis on rural contexts.
The Social Work Program seeks to serve the people of Michigan, through the preparation of capable and effective generalist social work practitioners, through the development of scholarship related to social work and societal needs, the promotion of service to human service organizations and equity across society. (Updated 4/1/2021)
Undergraduate social work education focuses on training for generalist social work practice. The Association of Baccalaureate Social Work Program Directors defines generalist practice as listed below.
Statement of Generalist Practice
​Generalist social work practitioners work with individuals, families, groups, communities and organizations in a variety of social work and host settings. Generalist practitioners view clients and client systems from a strengths perspective in order to recognize, support, and build upon the innate capabilities of all human beings. They use a professional problem solving process to engage, assess, broker services, advocate, counsel, educate, and organize with​ and on behalf of client and client systems. In addition, generalist practitioners engage in community and organizational development. Finally, generalist practitioners evaluate service outcomes in order to continually improve the provision and quality of services most appropriate to client needs.
Generalist social work practice is guided by the NASW Code of Ethics and is committed to improving the well being of individuals, families, groups, communities and organizations and furthering the goals of social justice.
Accreditation status
Central Michigan University's Bachelor of Social Work Program received initial accreditation from the Council on Social Work Education (CSWE) in February 2004 and in 2016 was reaffirmed until 2024. CSWE's Commission on Accreditation is recognized by the Council for Higher Education Accreditation as the sole accrediting agency for social work education in the United States and its territories.
Driving directions
The social work program office is located in Anspach Hall room 034. Anspach Hall is on Washington Street between St. Mary's Church and Pearce Hall. Enter the classroom portion of the building. The social work offices are on the lowest level, by the elevators.