After Hours Use of the CIS Maker Spaces
To better serve the needs of CMU faculty and staff, the Office of Curriculum and Instructional Support is now offering access to the Media Maker Spaces any time Park Library is open. After-hours access is intended for experienced, non-first-time users as there is no on-site support outside of regular CIS office hours (Monday-Friday, 8 am to 5 pm). On-site support will not be available during after-hours access.
First-time users are encouraged to make a reservation during regular CIS office hours to become familiar with the tools and procedures while support is available.
Current Park Library hours

The spaces are available to be reserved anytime Park Library is open. For current library hours, view this website. For specific instructions on how to reserve each space, please review this CMU Knowledge Base article. (CMICH Login Required)
Accessing the spaces after-hours

To access CIS Maker Spaces, after-hours users are required to use the 413U hallway door, directly behind the 4th floor elevators. (Note: the handle will appear locked, this is a push entry door only.) The main CIS doors will not be open. See the map below as a reference.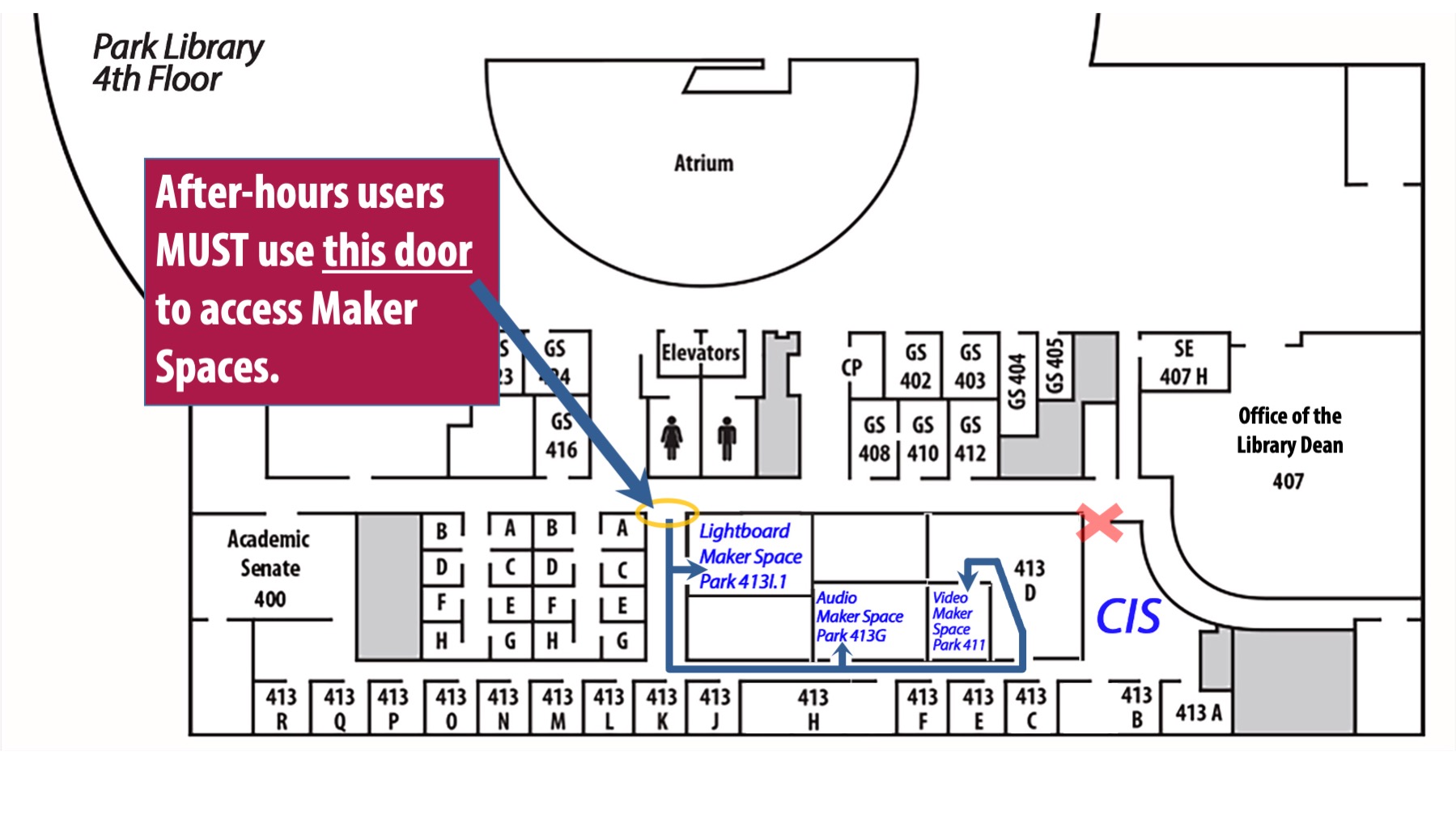 What do I do if I run into a problem?
If you have a Panopto or Blackboard issue while using the spaces, please call the help desk at 989-774-3662. If you have hardware or equipment-related issues, there will be no immediate help available. However, we need to know of any issues you may have during your reservation. If you have a problem, please call the help desk and open a ticket for the CIS Learning Media Production team so your issue can be investigated when our offices re-open on the next business day. Park Library personnel cannot provide support for CIS's Media Maker Spaces.