Proud to be Chippewas... a million times!
This is a love story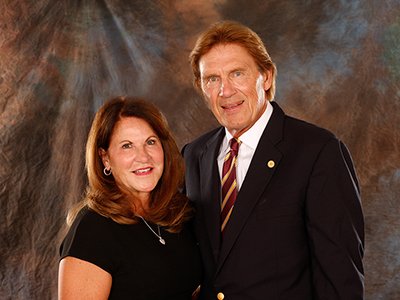 Love of one's partner. Love of the educational experience. Love of our alma mater.
It's first authored by Mike and Gay in their remarkable 1970s CMU student experience and how deeply that college experience influenced their lives.

1971. They both arrived on campus from the Grand Rapids area, freshmen at Central Michigan University. Michael Jerome Franckowiak, the big, 6-3, 215-pound Polish kid, an athletic Adonis with steely, stare-through-you green eyes, studious, shy and spiritual. And Sparta, Michigan's, Gay Lynne Ebers, an 18-year-old meteor with burning brown eyes and a desire to defy society's preconceived notions of a woman's place in society. Ebers, a sensitive contradiction, not hesitant to offer a you-can't-be-serious stare, yet all the while, easily touched, quick to tears.
Mike ranks, historically, as one of the Chippewas' all-time elite football players. He was the quarterback for CMU's 1974 National College Division Champions, coached by Roy Kramer. After losing its first game in to 1974, the team won 12 in a row, beating Boise State in the first round of the playoffs and then defeating defending national champion Louisiana Tech, snapping that team's 23-game winning streak. In the championship game in Sacramento's Camelia Bowl, CMU overpowered the Blue Hens of Delaware, 54-14. The Central Michigan Chippewas were the convincing National Champs! A footnote: Every player on that team was from the state of Michigan.
Mike graduated from West Catholic High School in Grand Rapids. Central Michigan was the ONLY school to offer him a full football scholarship. His outstanding career at CMU would continue in the NFL. Drafted in the early rounds of the 1975 draft as a quarterback/kicker by the Denver Broncos – the 54th player selected – he would play four years of professional football, two with Denver and two in Buffalo.
To this day, he still wears his pride for Central on his right ring finger – his 1974 CMU championship ring. It features a maroon stone with a gold "C" nested in its center. For their 35th wedding anniversary, Gay had it restored. The stone, from decades of use, had worn thin. He hadn't taken it off. He didn't want to take it off. The ring is a symbol of his continuing love affair with his alma mater.
When his Polish mother drove him from Grand Rapids to Mount Pleasant for his first day on campus, he admits to being scared to death, a fear not at all ameliorated when his mother wept upon her son's departure. Hard work built his confidence. He diligently earned a business degree, spending many late hours at Grawn Hall, earning the reputation that he was as solid in the classroom as he was on the football field. From the hundreds of eligible college quarterbacks in 1974, he was selected at the very top of the class, a FIRST TEAM College Academic All-America. Oh, my!
Gay Ebers was born in Grand Rapids, growing up in a family of six children, living on a 162-acre Centennial Farm (85 acres of apple orchard) in Comstock Park, Michigan. A cheerleader at nearby Sparta High School, followed her early education attending a one-room school with just four other students in her class in Comstock Park.
She didn't consider herself a great student, but was proudly encouraged by an A in English 101 her CMU freshman year. The title of her finals' essay: "Women Arise," a paper advocating Women's Liberation. She was only 18, but her paper was a strong announcement of what she was to become.
Gay gets emotional when recounting her mother's influence, a teaching mother who taught and fought, was even a basketball referee and principal way ahead of her time. Gay recalls her mom's sage challenge: "You have wings. You should fly." And so she did, from graduating from CMU, to teaching seventh- and eighth-grade mathematics, to studying and producing in the heady and demanding classrooms of New York's Wall Street.​
Unabashedly, she expresses her love for Central. "To this day when I hear the fight song, I have to go off by myself because my eyes fill with tears. I've loved CMU since my very first day on campus. I was totally impressed by its beauty, as I stood by the CMU entrance emblem, looking up the leafy lane to stately Warriner Hall." Gay earned her teaching degree while collecting meager spending money repairing books in the CMU library. When she returned home during spring breaks, her parents demanded she have a job. Easter was not a holiday. After all, a background of hard work does help strengthen young wings to fly.
But we're getting ahead of their love story …
It wasn't love at first sight. In their four years on campus, she and Mike knew each other well. He was a Sig Ep and she was a Zeta, but a romantic connection avoided any CMU equation. They didn't date, yet they always found each other interesting and attractive. Gay admired the fact that every Sunday morning she could look out her window of Woldt Hall and see Mike, the big football star, walking to Mass at St. Mary's. Mike, on the other hand, amazingly shy for such a bright and talented guy, said there were many times that he wanted to ask her out, would pick up the phone, dial the first six numbers, and then call an "emotional audible," hanging up.
In their common dormitory food hall, the men played a rating game, giving coeds scores as they passed through the cafeteria line, a la gymnastics. They held up handmade rating signs. Mike said he didn't participate. He was too shy and respectful, but would have given Gay a "10."
Their first date was a year after graduation when Mike came home after his Broncos' rookie season and met Gay by chance at a Grand Rapids watering hole. Ironically, the name of the disco, "The Point After." Hmm.
That was the beginning. They were engaged in 1976 and married a year later.
After he retired from the NFL following the 1978 season, they moved to New York's Long Island to begin the rest of their lives. In 1980 he earned his MBA at C.W. Post. Gay worked toward her MBA at Adelphi University.
On Wall Street, Gay had a reputation for being tough, earning the nickname "Gator," a moniker she still uses as part of her email address. She also possessed great people skills. Combined with her no-nonsense demeanor, she became a star. She was the highly successful managing director of the convertible bonds desk at Morgan Stanley, No. 1 on the Street. Mike became a winning signal-caller of Invesco Capital Management Co., formerly Citibank Investment Management. Two winners, now retired and enjoying their summers at a home on Michigan's remote Beaver Island.
Their love for Central is blatantly apparent, his omnipresent Central championship ring, the CMU sticker on their car's back window and the public fact that they are often seen proudly attired in Chippewa clothing. Even their 2-year-old black Scottish Terrier, Putter, wears a maroon and gold CMU collar.
Gay serves as a member of the prestigious 40-person CMU Development Board. "Our goal is to impress others to give back to our alma mater and cultivate relationships that will strengthen a campus that gave us all a chance to succeed. I see so much growth potential in our university. The medical school is a classic example. The campus has evolved with such beauty and promise. I'm so proud that CMU is making such a major contribution to our state, especially Northern and Upper Michigan. My love for Central continues. It makes me so happy."
And they have taken positive action. With funding help from Mount Pleasant natives and CMU graduates Todd and Terri Anson (Class of 1977), they have shared in a recent donation that provides iPads for the entire football team, which Coach John Bonamego says has given the Chippewa football program a cutting-edge tool to succeed.
Now the true love, the BIG HUG. Recently, Gay and Mike gifted the university a commitment of $1 million – the LARGEST GIFT EVER TO THE CMU FOOTBALL PROGRAM. As football has been a significant part of their lives, Gay agrees with Mike that a substantial part of that endowment should go to the "End Zone Project." They love Coach Bonamego and are genuinely excited by the building success of the CMU football program. Coach Bono was speechless when he learned of the Franckowiaks' generosity. "Mike was a game-changer on the field when he led us to the 1974 National Championship. To have one of our all-time football greats step up and demonstrate this level of support is incredibly inspiring. Mike led us on the field to a National Championship. Now he and Gay are establishing a game-changing legacy for our football program."
So I hope you agree. This is a wondrous love story authored by two typical, but dynamically different, products of Central Michigan University. The Latin alma mater translates to "Nourishing Mother." Our Nourishing Mother (CMU) has given to so many. How appropriate Gay and Mike's passionate generosity has given back.
Subtly placed in the Ebers-Franckowiak home is a small placard. It reads, "It's never too late to live happily ever after." Their noble-minded devotion to CMU freshens that philosophy. It's their statement to the next generation of CMU students. May they have the opportunity early, and not too late, to live happily ever after.