Voigtmans donate time, talent & over $1M to CMU
Gifts advance alumni's passion for helping CMU students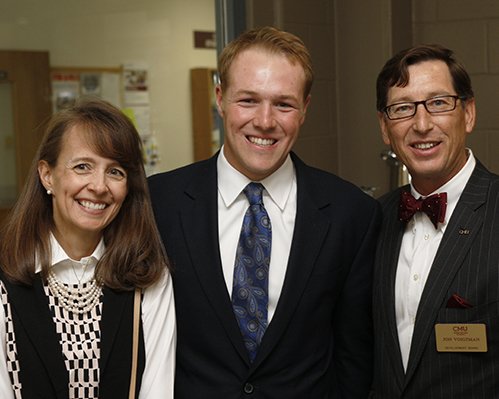 Passion drives alumni Jon and Terri Voigtman in deciding how to support the educational experiences of Central Michigan University students.
And during the past decade, their support has totaled more than $1 million.
The Voigtman name can be found across campus, particularly tied to areas they're passionate about, including business, education and athletics. Jon, '84, received a degree in business administration and was a gymnast during his time at CMU. Terri, '85, received an education degree.
The duo met when he was a junior and she was a sophomore.
The couple's financial gifts to CMU include:
Two learning facilities in Grawn Hall, focused on advanced business technology:

The Voigtman Financial Lab, named in 2014, includes terminals equipped with the Bloomberg Professional service, allowing students to monitor and analyze real-time financial market data and practice making trades on an electronic trading platform like those used on Wall Street.
The Voigtman ERP Lab, named in 2017, is a state-of-the-art SAP lab and classroom environment, complete with technology-rich features such as automated classroom management equipment, touchscreen smart boards and 40 SAP workstations.

Classroom and meeting space in the College of Education and Human Services Building, were named for Terri's family lineage that have devoted their careers to teaching in Michigan.
Establishment of the Voigtman Family Endowed Scholarship in 2006, supporting a renewable scholarship for a junior or senior from Michigan enrolled in the College of Business Administration that has interest in pursuing a career in financial services or capital markets.
Support of athletics, including the John G. Kulhavi Events Center and the wrestling and football programs.
For the Voigtmans, their biggest motivation to give is making sure students dream big and have competitive experiences to succeed on the global platform.
"There's this whole world out there, and for us it's so important to make sure students have access to tools and relationships that spread the CMU DNA, not only in Michigan but outside of Michigan," Jon said. "Here at Central, our career dreams were established and cultivated along the way, and we want to do the same for others."
So much more than money
The Voigtmans' involvement in their alma mater matches their monetary gifts.
Jon stays involved as a member of the CMU Advancement Board and the College of Business Administration Business Roundtable. He has been an advisor to the university's endowment for the past decade and also has been a finals judge in the New Venture Competition and keynote speaker at Dialogue Days.
"There's this whole world out there and for us it's so important to make sure students have access to tools and relationships that spread the CMU DNA, not only in Michigan but outside of Michigan." – Jon Voigtman
"There is an exponential impact when you combine giving with active campus involvement; making those dollars so much more valuable," Jon said. "We are fortunate enough that we could give financially, but I think we personally get the most out of sharing our ideas to help shape, and maintain, the honored traditions at CMU."
Through his regular visits to campus, Jon said he's able to see the impact of their gifts firsthand.
"Sometimes when I'm on campus I visit the (Voigtman Financial) lab, log onto a Bloomberg terminal and strike up conversations with the students working in there," he said. "I get to hear about the amazing things they're doing, and I'm astonished by what they've learned."
That impact, he said, follows students beyond campus.
CMU alumnus Ryan Heeke, center, was a recipient of the Voigtman Family Endowed Scholarship. He is pictured here with Terri and Jon Voightman.
He uses recent alum Ryan Heeke as an example. Heeke, a recipient of the Voigtman Family Endowed Scholarship, works for the same investment bank as Jon, RBC Capital Markets. Ryan is on one of the top syndicate desks in the world, where he is responsible for marketing, pricing and distribution of billions of dollars of debt issued by RBC's clients.
"Ryan's skills, attitude and tenacity got him an internship at RBC, and then his exceptional performance got him the job at the conclusion of that summer," Jon said. "It is so fun and rewarding for me to see these kids from Central Michigan competing right up there against students from the top business schools in the nation."
Jon said there's something special about CMU students that sets them apart.
"CMU students bring heart and a work ethic that is core to the Midwest and particularly to Michigan," he said. "When you combine that heart and work ethic with intelligence and a willingness to be trainable, it produces very strong performers who are likable."
Previously, Jon held management positions at companies including Electronic Data Systems and Freddie Mac and held executive positions at Lehman Brothers, Goldman Sachs and HSBC. He currently serves as managing director and senior officer at RBC Capital Markets in the Bahamas. Terri taught special education at middle schools in Bridgeport, Michigan, and Fairfax County, Virginia. Today she spends a great deal of time volunteering.
The Voigtmans live in the Bahamas.
Jon was inducted into the CMU College of Business Administration Hall of Fame this fall.