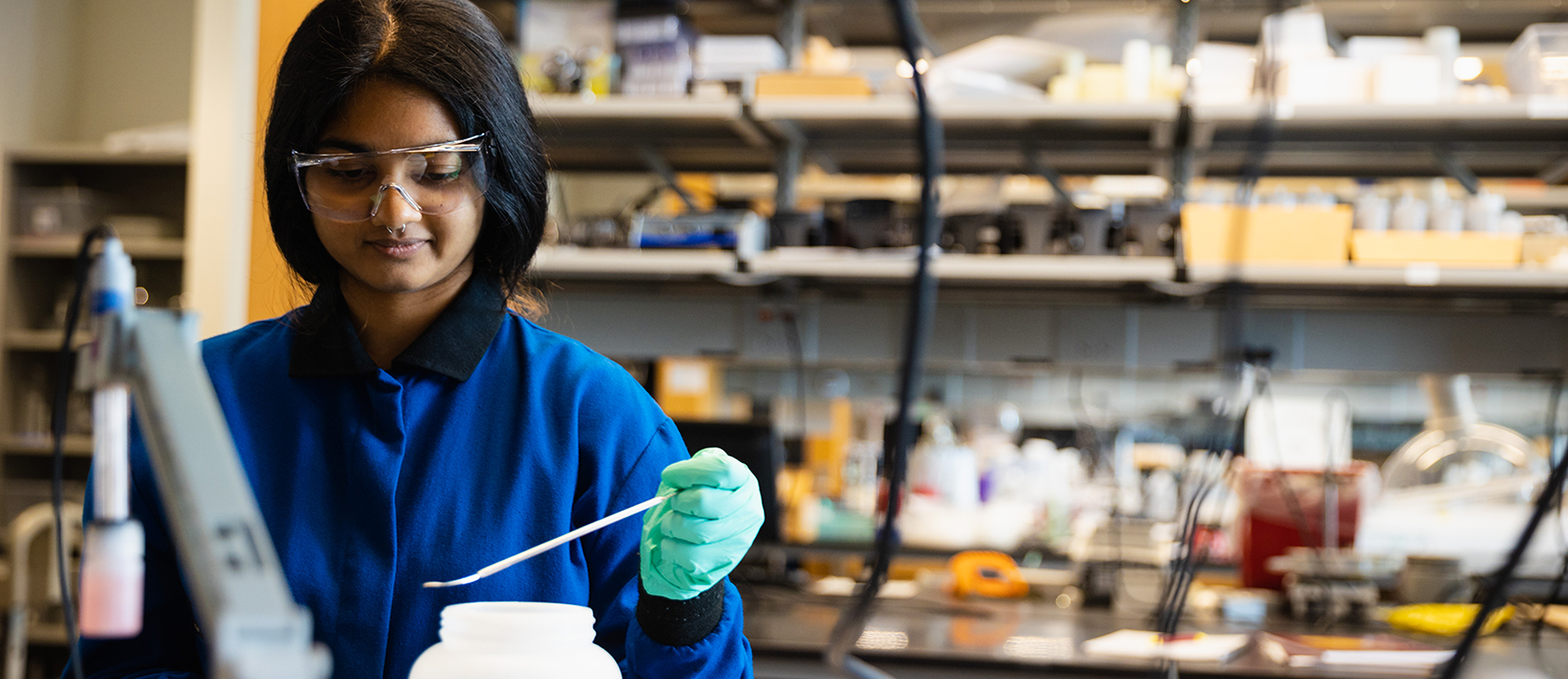 Experience your degree
Build your résumé with real on-the-job experience. 9/10 of our grads have jobs in their field or are earning a grad degree within six months.
Careers for the real world

Employers won't wonder who to hire, because you've already shown you have the confidence — and the experience — to get the job done.
9 out of 10
graduates are in a career related to their major or pursuing a graduate degree within six months. More than 2/3 of them have it before they graduate.
#1
Companies that have hired our graduates cite CMU most often as one of the best schools in the state for students who best fit their needs.
---
Scholarships

We give out about $50 million in scholarships each year. You can get up to 65% of your tuition covered with our merit awards, which are based on your GPA and optional test score.
Want more? You can earn up to a full ride (that covers all your tuition, fees, room and board, $250 per semester for books and $5,000 to study away) with some of our competitive scholarships. It doesn't end there. Earn even more with scholarships from academic departments, community groups and other third parties.

$50 million
in scholarships awarded by CMU each year.
85%
of all our students receive some form of financial aid and scholarships.
Estimate your merit award
Enter your information below to see what your results are:
---
Learning in action


Other universities want you to wait until you're an upperclassman to get in the lab or in the field. Not us. We want you to dive right into your field. Don't wait to do what you love. That starts on your first day.
44
art and performance spaces
Classes your way
On campus. Online. Or maybe a little of both!
---
Application checklist

Here are two things you need to apply, and one we encourage you to include, in order to complete your application for admission.
Your transcripts
You may submit an unofficial transcript with your application, or ask your school counselor (if you're a high school student). We can provide an admission decision and merit scholarship with either one. Keep us updated with new transcripts at the end of each semester. It may mean an upgrade in your scholarship.
Prior to your enrollment, we must receive your final official high school transcripts.
Your ACT/SAT score (optional)
You don't have to submit a test score in order to be admitted and earn a merit award.* However, you may be able to earn a higher merit award if you do submit one. There's no real downside to including them, because it will only increase your merit award. We'll never lower it. You can submit your test score with your application or any time before July 1.
If you do choose to submit a test score, you can mark CMU as a recipient on your exam or have your official score sent to us at apply@cmich.edu by requesting it through the ACT/SAT websites. (SAT code: 1106; ACT code: 1972)
*Please note, if you are homeschooled or attend a school that does not provide grades, then an ACT or SAT score is required.