Career connections start at CMU
Alumni, faculty and staff highlight the power of 'who you know'
By Terri Finch Hamilton
Adapted from Centralight Summer 2019
Central Michigan University alumni at some of Michigan's biggest employers are part of a powerful career pipeline for fellow CMU grads.
Top brass at companies like Ford Motor Co., DTE Energy, Quicken Loans and more host student tours, foster internships and hand over their phone numbers, inviting students to call.
"A job board is not a relationship. You need a champion on the inside to fight for you when you're competing against dozens of other universities who also want opportunities for their students." — Rob VanDorin, CMU Office of Business Engagement
Meanwhile on campus, career development pros and professors connect students with promising internships and great jobs through their relationships with alumni in the field.
Meet a few of these career starters:
DTE: Harnessing alumni power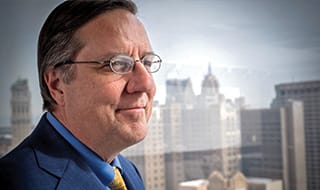 When Bob Richard, senior vice president at DTE Energy in Detroit, discovered 180 CMU alumni already working at DTE, he emailed them: How about joining a CMU alumni steering committee to start forging relationships with students?
They loved it, and there's definitely something in it for DTE Energy.
"Our demographics are startling," Richard said. "Thirty percent of our employees will be retiring in the next five years. Michigan is starved for people in technology and engineering.
"This is an industry that hasn't been thought of as cool," he said. "But it is."
Think solar and wind power. Metering technology. Smart grids. 3D mapping. Robots. Drones.
He wants CMU students to see it all.
"Anytime a young person knows a person at a company, it absolutely gives them a leg up in employment," Richard said. "This can be a really cool journey alumni can go on with students."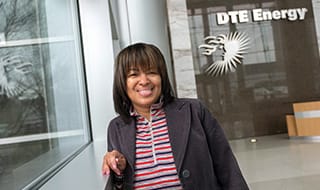 Gina Tate-Johnson, an alum who earned a Master of Arts degree in 2008, recently led a CMU engineering class on a tour, connecting students to DTE employees who showed off careers in everything from safety to social media.
After the tour, students eagerly shared their resumes.
"They were face to face with the movers and shakers who could help them," said Tate-Johnson, senior project controls specialist.
Quicken Loans: Lending fellow grads a hand
There are so many alumni working at Quicken Loans — 550 — that they have company events just for CMU Chippewas.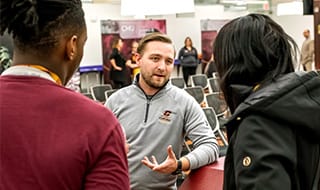 Want to add one more? Talk to Buddy Henika, a 2014 CMU grad.
"I was hired by a CMU alum, and they were hired by a CMU alum," said Henika, senior university relations manager at Quicken.
Henika brings alumni back to campus to tell students about job opportunities at Quicken. He visits classrooms, attends CMU career fairs and hosts career development events off campus.
He even helped host a unique event at his company for students accepted to CMU but who hadn't yet committed, showcasing the strong partnership between Quicken and CMU.
The goal: Convince them that CMU business partnerships are strong enough to land them a job after graduation.
"We wanted to show them the great opportunities at Central before they even step foot on campus," said Henika, who won an award for his work from the Michigan Career Educator and Employer Alliance.
Faculty members teach what it takes
Not all career development happens on a bus tour to DTE or an event at Quicken Loans. Some happens in CMU classrooms and offices.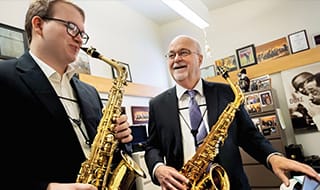 "After 38 years of teaching, I've learned what it takes to make it in the profession," said John Nichol, a saxophone professor.
"Be kind. Be understanding. Write thank-you notes. If someone else wins the competition, walk up and say 'congratulations.' Don't be negative. Know when to shut up. Speak with a strong voice. Dress well. Shake hands. Believe in yourself."
All of this is just as important as the musical training, he said.
"That helps them get the job."
He conducts mock job interviews with students. He reviews their resumes. He directs them where to audition.
Along the way, he dispenses tips — a sort of "pre-professional training program," he said.
"Look at me, don't look down," he said. "Keep smiling. Little things like that.
"I'm no counselor," he said with a laugh, "but I try to guide them."
Nichol stays connected to band directors and writes countless letters of recommendation.
Many of his students go on to be music educators, teaching in elementary, middle and high schools. Some earn advanced degrees and teach in higher education.
Alumni relationships open doors
Last fall, Rob VanDorin took a busload of 50 CMU students to three Ford locations, including a $45 million Advanced Manufacturing Center in suburban Detroit packed with collaborative robots, augmented reality simulators and more wow-inspiring tech.
"We were the very first school to get a tour," said VanDorin, director of CMU's Office of Business Engagement.
Their connection? Gary Johnson, Ford's group vice president of manufacturing and labor affairs, who oversees the global operations of every Ford assembly, stamping and powertrain plant around the world — and who graduated from CMU.
"We asked Gary, and Gary said, 'Let's do it,'" VanDorin said. "That doesn't happen with cold calling.
"Alumni relationships open doors for us."
CMU has great partnerships with Ford, General Motors, Blue Cross Blue Shield of Michigan, Consumers Energy, Quicken, DTE and more, VanDorin said — all because of alumni connections.
"Alumni are absolutely vital to this," VanDorin said. "We can connect to people in human resources at a company and get a posting on a job board. But a job board is not a relationship. You need a champion on the inside to fight for you when you're competing against dozens of other universities who also want opportunities for their students."