CMU athletic training research a winner
Senior's study on football pads and heat takes top honor in student writing contest
A senior from Dansville, Michigan, has become the fourth Central Michigan University athletic training major to be chosen a winner in the NATA Foundation Athletic Training Student Writing Contest.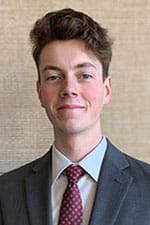 Ethan Launstein won the original research category for his paper "American Football Uniforms Cause Failures on the Heat Tolerance Test."
His research applied a heat tolerance test to people not wearing football pads one day and measured their heart rates and temperature and compared that against the same test given to people with pads on another day.
Data showed that on the pads day, heart rates and body temperatures rose quicker and higher than on non-pad days.
The takeaway for coaches is to acclimate players gradually to wearing pads in hot weather to develop tolerance while keeping watch for signs of heat intolerance.
"This kind of research has the potential to save lives," Launstein said.
Launstein emphasized that the test shouldn't be the sole tool to disqualify players from participating or in making return-to-play decisions.
The research was conducted under the guidance of his mentor, Kevin Miller, athletic training faculty member in School of Rehabilitation and Medical Sciences in The Herbert H. and Grace A. Dow College of Health Professions.
While the $500 award comes in handy, Launstein said, he is more excited for the attention it brings to the program.
"A lot of good athletic training research goes on behind the scenes," he said. "I enjoy being able to give back to the program, bring it more awareness."
"I had opportunities in my classes to develop the skills I need to do research. It's not everywhere you get research opportunities and get to work with such published professors."
René Shingles, director of the athletic training program, said: "The hard work of Ethan and the program's other winners demonstrates a commitment to excellence, seeking out research opportunities and engaging with faculty mentors."
"Their awards are national recognition of excellence in undergraduate research at Central Michigan University."