CMU students discuss the benefits of summer internships
Students build on foundational skills learned in the classroom
Thousands of Central Michigan University students complete internships, research positions and jobs in hundreds of fields across the globe each year. These outside opportunities allow them to apply what they have learned in the classroom at CMU by expanding on their skills through real-world experiences, building connections and preparing for their careers.

CMU students Brent Maclaren, McKenzie Reed and Ryan Conway each took part in different internships this summer. CMU News recently caught up with them to learn more about what they've been doing, learning and more.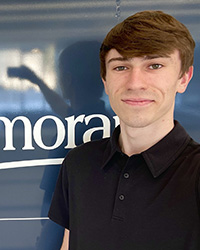 Name: Brent MacLaren
Major: Business Information Systems, cybersecurity concentration
Minor: Finance
Year standing: Senior
Internship position title: Cybersecurity Consultant Intern
Company: Plante Moran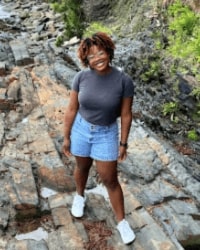 Name: McKenzie Reed
Majors: Spanish and Sociology, social and criminal justice concentration
Minor: N/A
Year standing: Senior
Internship position title: Policy and Advocacy – Hilton Opportunity Youth
Company: Jobs for the Future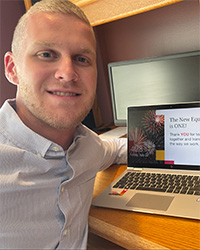 Name: Ryan Conway
Major: Accounting and Finance
Minor: Information Systems
Year standing: Senior
Internship position title: Advance State and Local Tax Intern
Company: PricewaterhouseCoopers
Tell us about your position this summer: What is your role? What are your daily tasks? Are you working on any projects of note?
Brent: As a cybersecurity consultant intern, I'm involved with a plethora of different client engagements that allow me to deepen my understanding of the cybersecurity and consulting industries. We play a major role in helping clients identify, understand, and mitigate risks to their systems through services including IT Audits, compliance reviews, SOC examinations, and penetration testing. As an intern, I am mostly responsible for testing controls, marking-up work papers, and I may be involved with some light client interaction. One of my biggest projects so far has involved me writing an ITGC (IT general controls) form for a large healthcare system based in Hawaii.
McKenzie: I work on the Hilton Opportunity Youth project supporting policy research and technical assistance to improve workforce outcomes for young people ages 16–24 who are neither working nor in school. My contributions are focused on two areas: a brief on equity in the workforce and supporting the implementation of core skills, and surveying focused on job quality in the future of work.
Ryan: I work on a team of around 25 people in the state and local tax practice area. I support the team with consulting projects, so I regularly research a specific state's regulations in order to help the client conduct business in the most effective way possible.
How has what you learned in the classroom applied to the work you are doing this summer? Are there specific classes, projects or extra-curricular involvements that especially helped prepare you?
McKenzie: Social Research Methodologies prepared me to conduct exploratory research. Generally speaking, the writing component included in all sociology courses have been helpful.
Ryan: What I learned in Federal Income Taxation I helped me during this internship. It taught me that regulations and laws can change every year, so it is important to make sure the information found while doing research applies to the year we are reviewing.
Brent: Had it not been for my business and cybersecurity classes at CMU, I would probably be completely lost here. My classes have provided tons of awesome fundamental information, which has been paramount in building my foundational skills. I am confident in my abilities, and I am competent in all the areas that I need to develop a successful career in cybersecurity. For general professional development and business acumen, I have to shout out the Business Residential College. I've been heavily involved with that program since I was a freshman, and I will continue to be heavily involved through graduation.
How is this experience helping you improve in your field of study? Is this opportunity for hands-on learning making an impact?
Ryan: The hands-on learning has taught me how to communicate with the client in a professional manner. This experience has also allowed me to learn how certain regulations can have an effect on the way a company conducts its business. I have also been able to improve my research skills since it is important for me to point out the meaningful information of certain regulations.
Brent: This experience is helping me immensely in my field of study. Doing this type of work has given me a new perspective on the cybersecurity industry like nothing else can. Understanding risk and knowing how compliance works is something that doesn't get talked about too much in cybersecurity, despite it making up a massive percentage of the industry. I will no doubt be able to apply the skills I learned during my internship to the classroom, and my future career.
McKenzie: This opportunity is making an impact through hands-on learning by providing the experience to execute research and develop policy solutions and recommendations for communities that have historically marginalized across the nation.
What interests you about your field of study and career path?
McKenzie: From the start, social and criminal justice interested me because of the variety of opportunities in the field to improve the lives of individuals who have been socially and institutionally marginalized in the U.S.
Brent: Almost everything about cybersecurity is interesting to me. I'm obsessed with technology in general, and I love helping people solve problems. Cybersecurity as a career path provides ample opportunity to scratch both of those itches and is very fulfilling for me.
Ryan: There are so many different areas of work in my field of study. If I would like to try working in a different practice area, most firms would be willing to grant that opportunity to me. I want to help the client keep track of their account balances so they can figure out how to operate efficiently and financially prosper.
What are your career aspirations?
Brent: I am focusing almost all my free time on developing ethical hacking skills. My ultimate career goal is to be a professional penetration tester. I want to be the guy that companies hire to break into their systems, then teach them how to fix it and keep threats out. This profession requires a fully stocked arsenal of very advanced technical skills, so it's a few years away, but I'm getting there!
McKenzie: My career aspiration is to reform the criminal justice system through research and human centered design focused on advancing the lives of the individuals who are incarcerated upon re-entry.
Ryan: My career aspirations include working for a reputable accounting firm that provides me with the opportunity to meet and work with a great group of people. I hope to work my way up through the ranks to eventually become a partner at the firm.
What advice do you have for fellow CMU students for landing internship opportunities?
Ryan: It is important to research the company you are applying for so you can know and understand their core values. Make sure to have a list of questions ready before an interview to show your interest in the firm. Try to relax and smile during an interview. It's okay to be nervous beforehand. It only means that you care.
McKenzie: Start reviewing opportunities three months to a semester before you are planning to intern, especially for virtual opportunities! Jobs for the Future had an application deadline of January 18, while the start date wasn't until May 31.
Brent: Three things: 1. Apply for positions that genuinely interest you. You are much more likely to have an engaging conversation with recruiters and you'll get more out of it. 2. Always be open to learning more! The point of internships is to learn, grow, and network with companies and people. 3. Trust the process. I got declined by five companies before I even applied to Plante Moran. You have to learn to take it on the chin, keep your head up, and keep trying. It's bound to pay off eventually.