Davies names university communications VP, chief marketing officer
John Veilleux to begin new role in January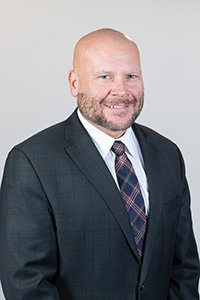 Central Michigan University President Bob Davies has named John Veilleux the university's vice president for university communications and chief marketing officer, effective January 8, 2020.
Veilleux currently serves as vice president for marketing and communications and enrollment at Texas Wesleyan University. Prior to joining Texas Wesleyan, he served as associate vice president for communications and community relations at Indiana University of Pennsylvania. He holds a certification in secondary education from Tarleton State University, a bachelor's degree in journalism from the University of North Texas and a Master of Business Administration from Texas Wesleyan.
"John is well-respected in higher education as a seasoned innovative marketing professional, and I'm excited to have him join Central Michigan University to lead our communications and marketing efforts," said CMU President Bob Davies. "His dedication to student success, expertise in enrollment and creativity make him the right candidate to advance and enhance our brand and reputation."
As vice president for university communications and chief marketing officer, Veilleux will be responsible for significantly enhancing the university's visibility and increasing awareness and understanding of its mission, vision and academic programs among external and internal constituents.
He will strategically plan and lead the conceptualization, development, integration and implementation of all marketing, branding and communication strategies; execute a positioning strategy for the university; and develop and implement new marketing initiatives to strengthen the university's reputation nationally and internationally among all key constituencies. He will lead a team of approximately 30 communications, marketing and design professionals.
"It's a tremendous honor to be selected to lead the university in its marketing and communications efforts," Veilleux said. "I am excited about engaging with students, faculty, staff, alumni, trustees and friends of CMU to develop an innovative marketing and communications plan that will creatively envelop the rigor, relevance and excellence Dr. Davies often refers to when speaking about the distinctiveness of CMU and its academic programs."
Davies said that this newly created role, revised from the previous associate vice president for university communications position, will strengthen and enhance the university's strategic marketing and communications efforts to assist in student recruitment, as well as brand enhancement for areas such as philanthropy; faculty and staff recruiting; and grants and contracts.