Esports Collegiate Championship coming to CMU
Event is the conference's first ever championship on a college campus
Central Michigan University will play host to the 2023 Esports Collegiate Conference Valorant Championship on December 2-3.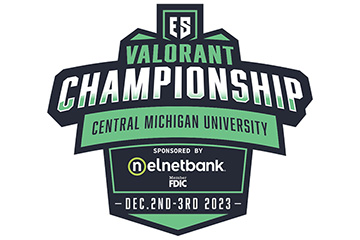 The two-day event takes place inside the CMU Student Activity Center (360 E. Broomfield St.) and features the top four Valorant teams from the ESC competing for a championship: Akron, Ball State, Kent State, and Northeastern.
CMU is the first program in the ESC to host a championship on campus, making this event a unique opportunity for the community to experience a professional-level esports event and competition. Admission is $6 per day or $10 for a weekend pass for the general public, and free for current CMU students with a valid ID.
Event schedule
Saturday, Dec. 2
Semifinals at 12 p.m.

Semifinals 3 p.m.
Sunday, Dec. 3