Faculty member to lead council
Association of Teacher Educators elects Ray Francis in unanimous vote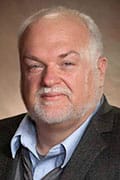 The Association of Teacher Educators unanimously elected Central Michigan University teacher education and professional development faculty member Ray Francis as president of its Council of Unit Presidents during the organization's recent annual national meeting in Atlanta, Georgia.
Francis has served as Michigan ATE president for more than two years, is a past winner of the Michigan ATE Mentor of the Year Award and has been active in the ATE National Delegate Assembly.
"This is a great honor and provides an opportunity to serve teacher educators, teachers, and learners in Michigan and across the United States," Francis said
ATE, founded in 1920, has about 1,400 members. The Council of Unit Presidents has more than 40 state and regional units across the U.S. CUP promotes advocacy, equity, leadership and professionalism for teacher educators in all settings and supports quality education for all learners at all levels through enhancing clinical practice and sharing research.