Financially fluent finalists
CMU students advance to final round of national financial plan competition
A team of two Central Michigan University students is a finalist in the International Association of Registered Financial Consultants' 2019 National Financial Plan Competition.
Williamston, Michigan, senior Nick Urban and St. Claire Shores, Michigan, senior Drake Uplinger's plan was one of three finalists selected from 56 submissions. They will present their plan in the final round at the IARFC annual conference in Nashville, Tennessee, in March.
"We are honored to have the opportunity to represent Central on a national level. Making it to the semifinal round brought some attention to the university and our personal financial planning program but making it to finals will bring national attention to our program among some of the most successful advisors and professors in the industry," Urban said.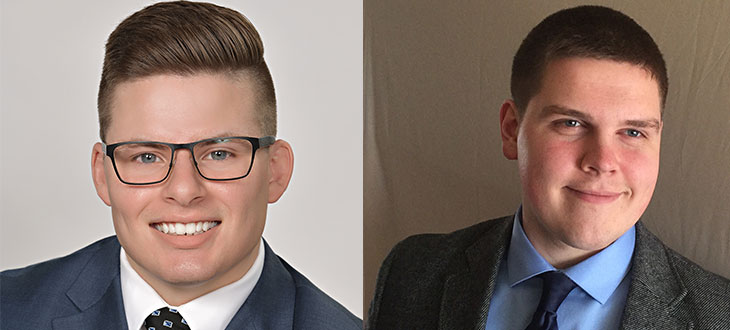 The competition is open to all undergraduates pursuing a degree in financial studies and consists of three rounds.
Urban said they created their submission based on a fictional financial situation and submitted it in early November 2018. Six semifinalists, including the CMU team, presented their plans through video chat to a fictional client in early January. CMU's team was one of three selected to present their plan at the annual conference next month.
Uplinger and Urban say they are practicing their presentation for professors and financial mentors to prepare for the Nashville competition.