Grad's thesis project in spotlight
International textile association will exhibit Alexis Quinney's apparel designs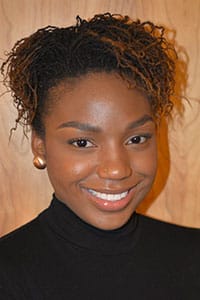 The International Textile and Apparel Association has selected Double Consciousness, a design work by Central Michigan University alum Alexis Quinney, for exhibition at its annual symposium this October in Las Vegas.
Quinney, of Lansing, Michigan, created Double Consciousness as part of her thesis in CMU's apparel product development and merchandising technology master's degree program. She digitally designed and printed prototypes of her fabric using the fashion program's digital textile printer and 3D-printed prototypes of her jewelry.
Juror comments said the collection "shows clear mastery of a wide range of design-related skills and sends an empowering message. It is cohesive and visually striking."
It was one of 26 graduate student design projects the ITAA selected for exhibition out of 65 submitted.
Quinney received her degree in spring 2018.