History faculty member honored
Jay Martin recognized for his contribution to a centennial historical exhibit.
Central Michigan University history faculty member Jay Martin has received the Salute to Excellence Award from the Midland chapter of the American Chemical Society.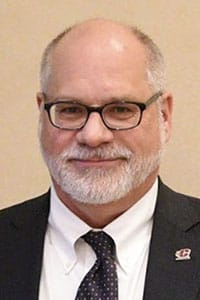 The award recognizes his professional guidance and enthusiastic support of the chapter's centennial historical exhibit.
Martin is director of CMU's  Museum of Cultural and Natural History and  the museum studies and cultural resource management programs. The museum and the programs it serves help to prepare emerging professionals for careers in museums, archives, historic sites, parks and other history-oriented professions.
In helping to create the exhibit, Martin mentored young professionals in museum study, consulted with the ACS chapter and helped collect oral histories of Michigan chemists during the past three years.
The exhibit, "A Century of Science and Service," is on display through December at the Herbert D. Doan Midland County History Center in Midland, Michigan.