Hotline for front-line doctors
CMU College of Medicine psychiatrist volunteers to help those struggling with emotions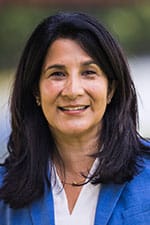 Dr. Furhut Janssen is on the front line for those on the front line.
During regular hours, she is director of Central Michigan University College of Medicine's psychiatry residency program. After hours, she is on the phone, talking with physicians who are feeling overwhelmed and fearful after treating patients during the coronavirus pandemic.
"There's a common narrative that those on the front lines are heroes," Janssen said. "That's awesome, but they might not be feeling very superhero-like."
To help physicians, Janssen joined a national physician support line that was started in March by Dr. Mona Masood, a psychiatrist in Pennsylvania.
The call line allows physicians to express their anxieties and fears. The calls aren't made only by those who are treating COVID patients, but also by those who are feeling guilty because they are not on the front lines like their colleagues.
Enhancing the anxiety is the common notion that physicians are somehow immune to those feelings, Janssen said.
"We are not always allowed to express our fears," she said. "Having an avenue like this where physicians can talk about their anxieties and fears with a psychiatrist can be a lifesaver."
Making a difference
Masood had been noticing a growing number of social media posts from physicians talking about their anxieties and seeking such information as recommendations on creating wills, whether they should live apart from their families, etc.
She wanted to do something.
"Sort of on a whim, I put out a call to psychiatrists in my group, telling them that I wanted to put together a mental health hotline for physicians while we navigate the COVID-19 situation," Masood said.
"I did not expect the response. It quickly went from 50 to 100 to now almost 800 volunteer psychiatrists running the support line."
It went live within a week of her making the call to psychiatrists and setting up the administration.
"Psychiatrists are feeling so good to be part of a bigger effort," she said. "Many of the doctors who have never reached out for such emotional support before are feeling encouraged.
"It is the shared experience that has made this a game-changer."