International awards recognize University Communications
Department honored for crisis communications, creative success
An international awards program has recognized the Central Michigan University communications, marketing and design team.
The Council for Advancement and Support of Education has announced its annual Circle of Excellence Awards, honoring outstanding work at universities and other higher education organizations.
CASE received more than 2,800 contest entries from 611 member institutions in the 2019 contest. The University of Michigan and Michigan State University were the only other Michigan universities receiving marketing and communications awards.
Communication during an ultimate crisis
University Communications received recognition in Strategic Communications/Issue and Crisis Management for its work during and after the March 2, 2018, on-campus domestic violence incident that left two people dead.
While campus was on high alert for 15 hours during the search for the shooter, University Communications team members worked closely with CMU police, campus and community partners, and media, leading communication efforts that helped ensure safety and calm.
"I am beyond proud of our team, our partners across the campus and community, and our ability to be strategic leaders during a crisis that brought immediate worldwide attention," said Sherry Knight, associate vice president of University Communications.
"On a day when CMU experienced one of the worst possible tragedies, a team of campus leaders, faculty and staff, including from University Communications, collaborated with law enforcement personnel from around the region and state to keep the university community informed and safe. These efforts portrayed the true spirit and strengths of Central Michigan University," Knight said.
The inclusion of "five communication lessons learned" set CMU's nomination apart, CASE judges said.
"It shows a team deeply conscious of the preparation required for effective crisis communication. It also shows their ability to adapt to a situation as it evolves and to attend to the requirements of multiple audiences (affected constituencies) over time. The use of an emergency website for regular up-to-date information was also noted as an effective tool for crisis communication."
California State University, Chico, was the only other university CASE recognized for issue and crisis management.
A shirt you can't buy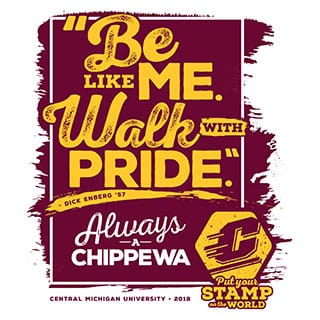 CASE also recognized University Communications in Design/Specialty Pieces for its "Fire Up!" T-shirt swap and the 2018 shirt design. The shirt featured the phrase "Always a Chippewa" and a quote from famed sportscaster Dick Enberg: "Be like me. Walk with pride." It was available only through a swap for apparel from other universities or colleges, promoted on social media.
Enberg, a CMU alum, died in 2017. His quote is from a 2016 speech at CMU.
"This project was truly a full-team effort," CMU Director of Communications Heather Smith said of the limited-edition shirt. Communications, design and marketing staff brainstormed the concept, and the shirt was designed in house. A quick social media video promotion also added to the judges' decision to recognize CMU.
"A lot of schools entered shirts in this category, but Central Michigan alone won a medal for theirs because of the intention behind the shirt," the judges wrote. "Like most schools, Central Michigan designed the shirt for an event, but the design team had the great idea to make this shirt an homage to beloved alumnus and renowned sportscaster Dick Enberg. The baseball jersey — fitting because Enberg was a baseball broadcaster — features a quote from a speech Enberg delivered on campus, which is another great tie-in to the school.
"Most impressive to the judges, however, is the 'Fire Up! T-shirt Swap' concept. We were impressed that the design for the limited-edition shirt was teased on social media. We love that the shirts cannot be purchased, but must be 'swapped' with any other school's apparel, which are then donated to people in need."
In addition to CMU, five other universities received CASE honors for Design/Specialty Pieces: 'lolani School, in Honolulu; Emory University, in Atlanta; the University of Chicago; Princeton University; and The Ohio State University.
Sue Cunningham, CASE president and CEO, praised the level of work being honored.
"These awards demonstrate our members' success in advancing their institutions through their remarkable work," she said. "This year's award winners demonstrate creativity and strategy.
"Congratulations to all the Circle of Excellence award recipients. Your work engages important communities in the life of your institutions, advancing education to transform lives and society."