Lt. Larry Klaus named CMU police chief
Team builder plans community engagement to enhance public safety
​Central Michigan University police Lt. Larry Klaus will be the university's next chief of police.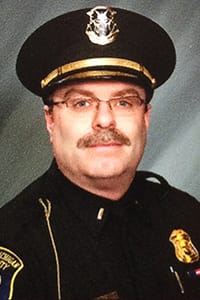 Vice President of Finance and Administrative Services Barrie Wilkes chose Klaus to replace Chief Bill Yeagley, who announced his retirement in February. The university is working toward a smooth transition of leadership in the coming weeks.
Klaus said he will maintain CMU's focus on public safety through training and preparedness; partnerships with neighboring communities; and communication with CMU students, faculty and staff.
"Keeping our campus safe, that's our priority," he said. "I want to engage the campus community so there's a better awareness of safety."
Wilkes said Klaus is respected in the CMU Police Department and community for his leadership during previous high-profile events on campus and stood out among worthy candidates.
"We were proud to have such a strong pool of finalists for this position," he said.
Klaus joined the CMU Police Department as a lieutenant in 2011, after 25 years with the Lansing Police Department.
At CMU, he is a member of the President's Title IX Advisory Board, Care Team, Threat Assessment Group, and the Office of Civil Rights and Institutional Equity's sexual assault response team.
"I am a team builder and passionate about CMU and our collaborative team approach to solving challenges and improving our campus community," he said.
Klaus served on a regional committee that helped restore McLaren Central Michigan's Sexual Assault Nurse Examiner program for the Mount Pleasant community. He also served on the Isabella County Community Mental Health task force and is a member of the county's Mental Health Court Committee.
He received a bachelor's degree in criminal justice from Ferris State University in 1985. His numerous certifications in policing tools and methods include certificates from MSU's School of Staff and Command in 2009 and Gavin de Becker and Associates' Advanced Threat Assessment and Management Academy in 2011.
He is a member of the nonprofit Michigan Association of Campus Law Enforcement Officers.
As chief, Klaus will lead a staff of 34 that includes 23 sworn officers. The department also has a number of student employees.