Mask-making mission knows no limits
Lana Ivanitskaya finds Amish, Navajo, nationwide and global partners in COVID-19 fight
Many superheroes wear masks. Lana Ivanitskaya, a faculty member in Central Michigan University's
School of Health Sciences
, is a superhero who also makes them.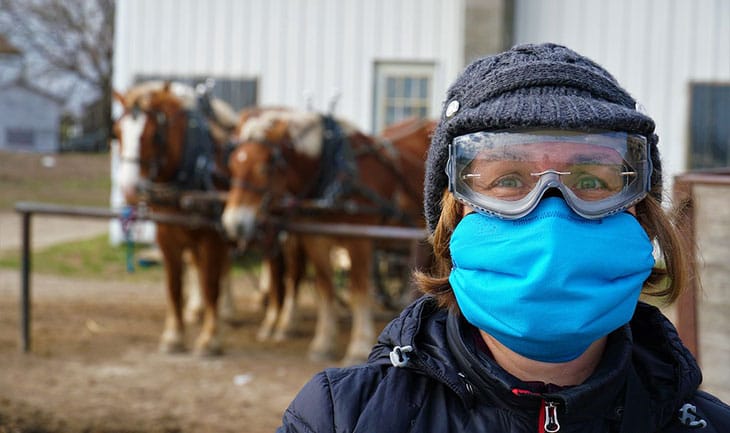 On a mission to stop the easy spread of COVID-19, her strategy is to supply as many masks and as much knowledge to as many people as possible. To do that, she's assembling a team that bridges cultures, spans the globe, and features CMU students and alumni. Her efforts include:
Enlisting Amish and Mennonite communities in Michigan to sew scientifically designed face masks by the hundreds for distribution.
Working with a CMU doctoral degree student in the Navajo Nation — where some of her masks are headed — to coordinate financial support of mask production through the health care nonprofit he directs.
Collaborating with experts and health care workers around the world on a multidisciplinary short course about the pandemic offered through CMU this summer.
Teaming up with multinational colleagues and CMU alumni on websites to explain do-it-yourself mask-making and the science behind mask-wearing.
Partnering for mask-making
Ivanitskaya had a hunch that a mid-Michigan Amish community might be able to sew masks on a large scale. She explained her vision to an Amish fabric shop owner named Sarah, who is now at the heart of mask-making efforts.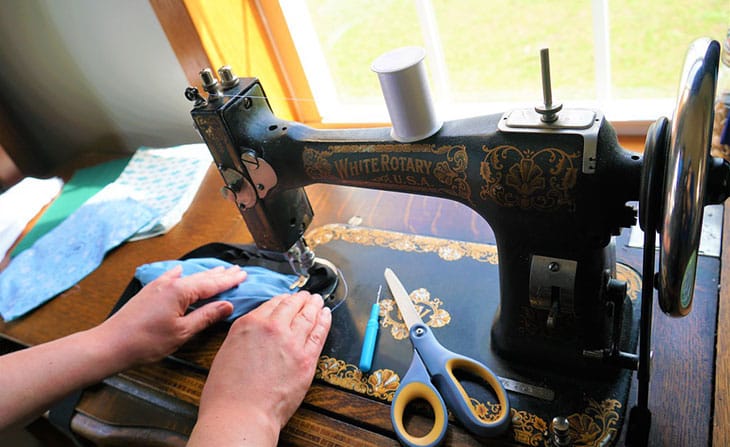 "The Amish are well-positioned to make hundreds of masks per week per seamstress," Ivanitskaya said. "Sarah has already contributed to our do-it-yourself mask design project with a new nose bridge construction using bag ties to ensure a tight mask fit."
CMU undergraduate Julia Kalusniak, Ivanitskaya's press secretary and office manager for the project, made educational handouts about the coronavirus for the Amish partners.
The first masks produced will help elderly Michiganders, customers of an Amish bakery, and the Navajo Nation in Arizona and New Mexico that has been hit hard by COVID-19.
CMU Navajo connections
Mask-making isn't free, and paying for materials and labor isn't easy.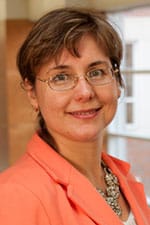 "Very often, women are expected to provide free sewing labor. We believe it is important to pay Amish seamstresses for their work," Ivanitskaya said.
She's working with Community Outreach and Patient Empowerment, a New Mexico-based health care nonprofit serving the Navajo Nation, on a system to accept donations for the project. COPE so far has delivered more than 10 tons of emergency relief aid to quarantined Native communities that have suffered more COVID-19 fatalities than 13 U.S. states.
COPE's executive director is Nitumigaabow Champagne, a CMU Doctor of Health Administration student. Ivanitskaya reached out to see whether he needed masks to distribute.
"Lana is my academic advisor, but also a friend," Champagne said. He believes the donated masks will make a difference, especially among homeless and transient Navajo people.
"At least it can help slow the spread," he said.
CMU, meanwhile, has funded lab testing of Ivanitskaya's masks.
"The virus does not care if he is Hispanic, she is Amish, I am a Russian or they are American Indians. The virus will take us one by one if we don't work together." — Lana Ivanitskaya, School of Health Sciences faculty member
The mask project's functional designer is a CMU alum with Armenian roots, Armine Ghalachyan, a faculty member in apparel, merchandising, design and textiles at Washington State University.
Alberto "Ali" Alvarez, an industrial hygienist and CMU Master of Health Administration degree student from Florida, is the project's Spanish version consultant.
Their involvement is another example of the project's CMU ties and far-reaching roots.
"My mask research team has an Armenian functional apparel designer and a Cuban-Hispanic hygienist in Florida who is mass producing hot-weather masks. Add me, a Russia-born organizer of the Amish seamstresses," she said.
"The virus does not care if he is Hispanic, she is Amish, I am a Russian or they are American Indians. The virus will take us one by one if we don't work together."
'At War With the Virus'
Lana Ivanitskaya and partners at Indiana University and the Swedish HealthCare Academy in Malmö, Sweden, are creating a three-credit short course offered online through CMU this summer to explore global lessons from the crisis. Ivanitskaya will be a co-instructor.
"At War With the Virus: Coping with COVID-19" is scheduled June 29-July 10. It is open to graduate students, undergraduates with at least 77 credit hours and guest students and will feature speakers from five continents.
"The virus isn't the only thing with worldwide reach," Ivanitskaya said.