Math prof earns national award
Mathematical Association of America recognizes CMU statistics professor for outstanding work
Central Michigan University statistics professor Carl Lee has been awarded the prestigious Deborah and Franklin Tepper Haimo Award by the Mathematical Association of America.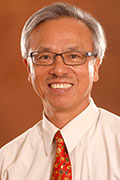 The MAA presents this honor to university mathematics faculty who have shown great success as educators and made contributions to the field of mathematics.
"Lee is recognized for his outstanding contributions to teaching and learning in the mathematical sciences," said Michael Pearson, executive director of the MAA.
"He provides tireless mentoring and helps any student interested in mathematical sciences and applications."
Lee founded the Undergraduate Statistics Project Competition and also is a founding member of the Consortium of the Advancement of Undergraduate Statistics Education. He developed the Real-Time Online Hands-on Activities Database which is now used by over 100 instructors at more than 50 institutions and was supported by funding from the National Science Foundation.