NAACP recognizes CMU student for leadership
The collegiate award honors students making strides in their communities
Australyah Coleman, a Central Michigan University senior from Grand Rapids, Michigan, and president of CMU's NAACP chapter, received the Organizer of the Year award for Region 3 of the NAACP Youth & College Division.Coleman received the award during the organization's 110th national convention July 20-24 in Detroit.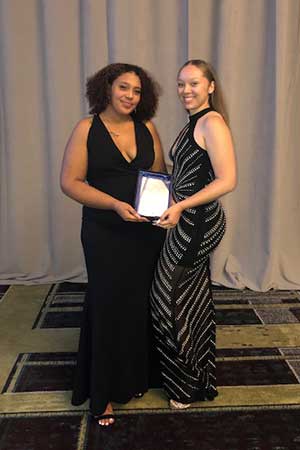 More than 25,000 people under age 25 are part of the NAACP's Youth & College Division, working to address issues affecting African-Americans and other minority groups, such as voting rights, political representation, economic stability and education.
The Organizer of the Year award is given to a member who has stepped up in the community. Individuals must apply for the award, submit letters of recommendation and samples of their work, and express why they believe they deserve the award.
Coleman shared work she's done for the Mount Pleasant Area Diversity Group, as well as the four initiatives she and other multicultural student organizations developed in response to a hate message left in a residence hall in November 2018.
At the convention, Coleman co-facilitated a workshop with Kyra Mitchell, first vice president of NAACP's Michigan State Conference Youth & College Division. The two discussed racism on university campuses and how to utilize an institution's resources.
Written by Rachael Thomas, CMU University Communications intern