New CMU information technology VP, CIO named
Jim Bujaki has a track record of higher education IT success
Provost Mary C. Schutten has named Jim Bujaki Central Michigan University's next vice president for information technology and chief information officer, effective May 18. He will replace Roger Rehm, who was named Central's first CIO in 2006.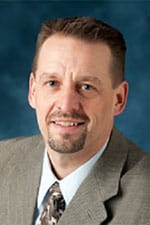 "Jim Bujaki has a record of success in higher education, translating the needs of teaching, learning, research and administration into IT solutions," Schutten said. "He brings out the best in people, developing talent and building high-performing teams based on trust.
"We look forward to his leadership and vision as CMU faces today's challenges and looks ahead to 2030 and beyond."
From 2018-19, Bujaki was director of infrastructure projects at Pennsylvania State University. Before that, from 2001-18, he held several roles in infrastructure, systems and core services at the University of Michigan in Ann Arbor.
"I'm excited to join CMU and build on my leadership experience, focused primarily in higher education across a broad scope and large scale of technology services," he said. "I'm eager to begin building relationships and delivering results."
Bujaki comes to CMU from BDO USA in Grand Rapids, Michigan, where since 2019 he has served as director of IT infrastructure and enterprise operations. BDO USA is part of BDO International, the world's fifth-largest accounting firm.
At BDO, his areas of focus include cloud and virtualized services; resiliency, disaster avoidance and recovery; communication systems; data center operations; and server and storage management. He supported IT integration and acquisition of six expansion firms, adding five remote office locations, more than 400 employees and $73 million in revenues.
His accomplishments at U-M include consolidating multiple data center locations for a yearly savings of $700,000. He successfully led integration of academic and administrative core infrastructure departments for a $900,000 budget reduction over two years, focusing on standardizing processes and removing redundancies.
Bujaki earned a bachelor's degree in computer science from Michigan State University.
As information technology VP and CIO, he will report to Schutten.
Rehm announced his retirement in October after a nearly 45-year CMU career. Dean of University Libraries Kathy Irwin chaired the 14-member committee that selected Bujaki in a national search for his replacement, assisted by search firm Greenwood/Asher & Associates.
Rehm joined CMU in 1975, teaching oboe in what is now the School of Music. In 2004, he was named interim chief technology officer in the Office of Information Technology. Following a national search, Rehm was named the university's first chief information officer in 2006.