President names next VP of finance and administrative services
Nicholas Long begins his new role July 27
President Bob Davies has selected Nicholas Long to serve as Central Michigan University's next vice president of finance and administrative services, effective July 27. Long replaces Barrie Wilkes, who retires this month.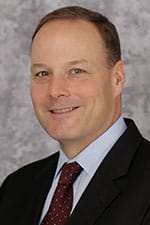 As head of the Finance and Administrative Services division, Long will oversee several CMU departments — including Auxiliary Services, Facilities Management, Financial Planning and Budgets, Financial Services and Reporting, Human Resources, and CMU Police.
Since 2018, Long has served as assistant vice chancellor of budget and financial planning for the University of Texas System's eight academic institutions and six health institutions throughout the state.
In that position, he oversaw and coordinated the annual all-funds budget for the system with $21.7 billion in revenue. Among his responsibilities, he also:
Developed long-range strategic financial plans and managed the biannual legislative appropriation request process for the system and its 14 institutions.
Advised system leadership on strategic financial matters and analyzed and prepared budget forecasts, plans and ad hoc reports.
Designed, implemented and oversaw the budget process, related systems and related policy changes and recommended and implemented changes to the budget structure and process as needed.
"This is a crucial and challenging time for CMU and for higher education overall, and I'm certain that Nick's expertise will help drive positive changes for our university," Davies said. "We will benefit from his strong budget management experience, strategic and thoughtful approach to making decisions, and his proven leadership.
Before joining UT, Long was vice president of the higher education practice at Kaufman Hall & Associates, a performance solutions company, from 2015-18. He held education-focused positions with Huron Consulting Group from 2003-14 and also previously worked at Macromedia Inc., Oracle Corp., Ernst & Young, Andersen Consulting (now Accenture), and Bank of America Investment Management.
"Central Michigan University is an institution positioned for great success and growth, and I am thrilled to be joining President Davies and his leadership team in this effort," Long said. "I very much look forward to identifying and driving strategic investments that will help to fulfill the university's mission."
Long earned his Bachelor of Arts degree in economics with an applied mathematics minor in 1991 from the University of California, San Diego-Revelle College. In 1997, he earned his MBA with concentrations in finance and information technology from the University of California, Irvine-Graduate School of Management.
Provost Mary C. Schutten and Michael Alford, Zyzelewski Family Associate Vice President and director of athletics, co-chaired a 12-member search committee, advised by search firm DHR International.