Readying for 'Ragtime'
Students, faculty and staff performing Tony Award-winning musical Nov. 6-10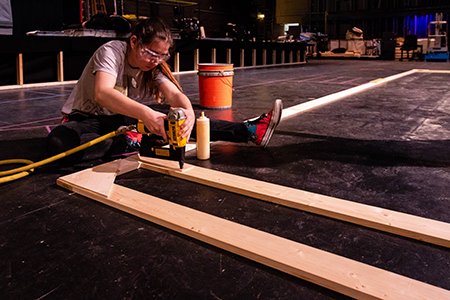 University Theatre will present "Ragtime," a Tony Award-winning musical dealing with discrimination and social inequality in the United States at the turn of the 20th century.
Directed and choreographed by theater faculty member Annette Thornton, "Ragtime" follows the story of three diverse families in New York City and how their lives intertwine.
Grand Blanc, Michigan, senior Lois Reeves, who plays Sarah, recognizes the relevance of the show's themes in today's society.
It's a story the audience will be able to relate to and connect with no matter their age," Reeves said.
Alpena, Michigan, junior Lillian Broad, who plays Mother, notes that preparing for the show requires her to explore and deeply understand the character she plays.
"I have loved being able to explore the deep, profound emotions that drive her self-sacrificing actions," Broad said. "While it has been difficult, delving into these very vulnerable, emotionally driven moments in the show has been incredibly rewarding."
Performances will be at 7:30 p.m. Nov 6-9 and 2 p.m. Nov. 10 in Bush Theatre. Tickets are available online through CMU Ticket Central and at the box office.