Research made less abstract
Master of Public Health chosen as an affiliate of Cochrane global research repository
​Central Michigan University's Master of Public Health program has been selected as a U.S. affiliate of Cochrane, a worldwide online repository of vetted health research.
Cochrane's mission is to improve global health by making available to the public and practitioners easily understood summaries of current research topics to help them make evidence-based decisions on care and treatment.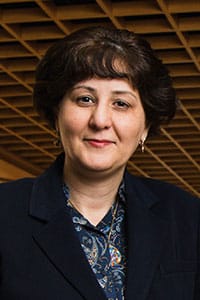 Some of Central's M.P.H. staff and students have been among the writers of those "systematic reviews," said Shayesteh Jahanfar, a professor in The Herbert H. & Grace A. Dow College of Health Professions.
The affiliation designation links Central with 10 other Cochrane affiliates nationwide whose focus is on general health. The honor adds another level of CMU's involvement with Cochrane.
In late 2018, Central became the first U.S. Cochrane "satellite" focused on pregnancy and childbirth, and Jahanfar was named co-director of the unit, which collaborates with Michigan State University, University of Michigan, and Indiana University. There are 53 subject-matter Cochrane groups worldwide.
"This is a huge boost to our reputation as a public health research institution," said Tom Masterson, dean of the college.
"It is rewarding to work with other professionals at such a high level and produce something so useful," Jahanfar said.
Members of the U.S. affiliates are scheduled to meet in June in Washington, D.C., to discuss their roles in the new group, whose task is to gather subject matter research and write the systematic reviews.
Makings of a systematic review
The systematic review is key to the Cochrane model.
They are written by trained reviewers who analyze all available quality research on a subject — for example, the effect of drinking coffee during pregnancy — and come up with a conclusion based on the preponderance of evidence.
The condensed subject matter abstracts have enough useful detail for physicians, hospitals and the general public. Sometimes those abstracts are condensed further into what are called Cochrane Corners.
"The precious thing that Cochrane offers is the knowledge of highly skilled people made understandable so all people can make appropriate decisions. That makes me proud." — Jonas Ndeke, Master of Public Health graduate
Some CMU faculty have been using the subject matter reviews in their classes, and students can access them in CMU's Park Library.
Jahanfar has been an international trainer of Cochrane reviewers since 2002.
Training involves a clinician, an experienced reviewer, a librarian who can help find the raw data from the publications, and screeners — including some M.P.H. students — who gather data and perspectives from the papers and create the summary reviews.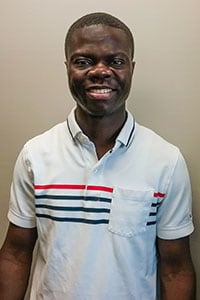 One of those student reviewers was recent M.P.H. graduate Jonas Ndeke, originally from the Democratic Republic of Congo.
He said writing systematic reviews was a demanding yet fantastic learning experience. What made it so, he said, is that Cochrane requires such a rigorous process.
It begins with gathering the appropriate primary research for a subject. Then comes the demanding task of reading, combining and condensing the research into one review, having that evaluated by his professors and Cochrane supervisors, and making revisions.
You have to always consider how medical and nonmedical people from different cultures all over the world will interpret and apply the evidence in a review, he said.
But it is worth the effort.
"The precious thing that Cochrane offers is the knowledge of highly skilled people made understandable so all people can make appropriate decisions. That makes me proud."
New capstone class
Jahanfar is excited about training others like Ndeke, so much so that she has designed an Honors Program capstone class, which will begin this fall, focused on writing systematic reviews. The class already is full, she said.
"Even though they aren't clinicians, when they are paired with a mentor clinician and learn the methodology, they will able to produce the summaries."
Their work will be made available to Cochrane or other publications, she said.
Jahanfar is seeking a grant to do more training and to hold a conference in 2020 that will include policymakers, researchers and the public.
Future opportunities
"This recent affiliation with Cochrane is a great platform to create research and promote research," Jahanfar said.
She sees it as the starting point to establish a link with international collaborators.
"Can you imagine how much experience a student can get with that? My wish is to take all my students who have written systematic reviews to present at the next research colloquium, which is in Chile.
"So they can shine."