Robert Davies named 15th president of Central Michigan University
Board of Trustees casts unanimous vote; Davies to start Sept. 1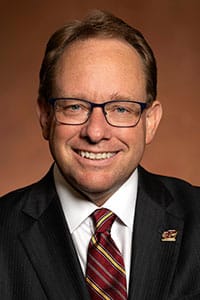 The Central Michigan University Board of Trustees has appointed Robert O. Davies the 15th president of the 126-year-old, national research university. He will start Sept. 1.
Davies, 51, president at Murray State University in Kentucky since 2014, grew up in the academic world. His father was a history professor who became a dean, provost and interim president. He also taught Davies a deep appreciation for students and those who prepare students for their careers.
Davies' own path started in university advancement, fundraising to support the delivery of high-quality education. He emphasizes strategic planning, setting goals, measuring progress and delivering results that prove the value of a university.
"Central Michigan University is a nationally recognized research university that is 100 percent committed to student success," Davies said. "That is a unique niche most research universities don't fill, because they outgrow the ability to focus on students as individuals.
"The relationships between CMU faculty, staff and students create an environment, a culture, an ethic, an ethos. I'm excited to be at CMU, because we're all here to guide students through their career choices. To help them engage and become leaders. To give them educational experiences they wouldn't have at a larger university," he said.
Davies succeeds George E. Ross, who stepped down Tuesday after eight years as president.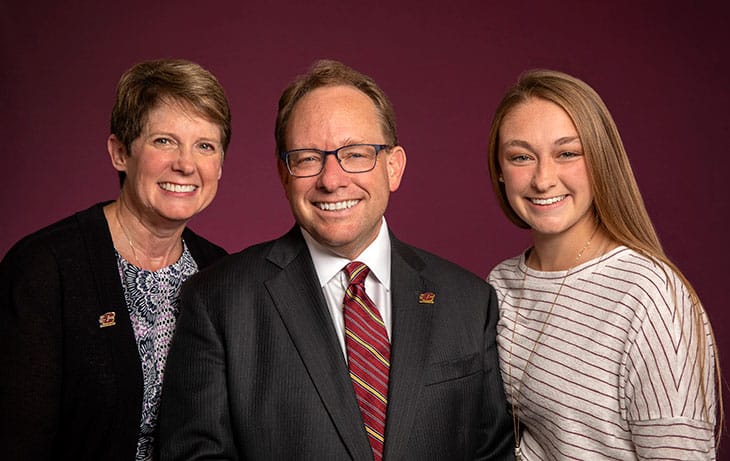 Board Chair Bill Weideman said those who have worked with Davies speak of an inclusive leader who communicates a bold vision based on insights from faculty, staff, students, alumni and external stakeholders. He then inspires the university community to achieve that vision.
"Dr. Davies, his wife and daughter will be great additions to the CMU family," Weideman said. "He's a seasoned leader. He's student- and faculty-focused. He has extensive experience in fundraising and in connecting with alumni and community, business, and political leaders.
"I'm delighted to have Bob Davies as our 15th president. He will help expand CMU's leadership, especially our pivotal role in addressing the need for health care, STEM and business professionals who will take Michigan into the future and serve residents across the state."
Board Vice Chair Tricia Keith, who led the search advisory committee, said Davies matches the presidential leadership profile that was developed with input from across the campus and community.
"When the leadership profile was written, faculty, staff and students said we'd nailed it — we'd described the president they'd hope to find. Bob Davies exemplifies that profile," Keith said.
"As CMU evolved through the decades, some people wondered where we're going. Dr. Davies will help us refine that. And he'll help us attain our goals."
Keith pointed to the strategic plan and related outcomes Davies oversaw at Murray State, including in enrollment and in academic excellence. He created an honors college, introduced a new scholarship model, broke ground on two academic buildings and opened a new residence hall.
"Dr. Davies talks about rigor, relevance and excellence. He wants to ensure we have rigor in evaluating what we're doing, relevance in the education we deliver, and excellence in the outcomes we achieve for our students and community and business partners," Keith said.
Murray State has been ranked by U.S. News and World Report as a top-tier institution in the South for 27 years and has been named a "Great College to Work For" by the Chronicle of Higher Education for seven of the past nine years.
Brad Swanson, biology professor, chair of the Academic Senate and search advisory committee member, said Davies dedicates time, energy and budgetary resources to student success.
"President Davies stands out with his focus on students, including their recruitment and retention. He shows an obvious commitment to students, faculty and staff, and he wants everyone to know their contributions are valued," Swanson said. "He has a strong commitment to shared governance and believes personal interactions with faculty are key to a successful university."
Anna Owens, a May 2018 graduate of CMU, former president of the Student Government Association and member of the search advisory committee, said Davies stood out for being passionate about the student voice.
"It's one thing to say you put students first. Dr. Davies was clear about consulting with students before making decisions," Owens said. "He will listen. He will evaluate, trusting the people of CMU to guide him in what the situation is."
Prior to Murray State University, Davies was president of Eastern Oregon University and vice president for university relations at Indiana University of Pennsylvania. He also had alumni relations and development positions at The State University of New York at Buffalo, Boise State University and University of Nevada, Reno.
Davies earned his Ph.D. in higher education administration from The State University of New York at Buffalo, his MBA in finance and marketing from the University of Oregon, and a Bachelor of Science in management from University of Nevada, Reno. He has completed two seminars for university presidents at Harvard.
Davies and his wife, Cindy, have one daughter, Katie, who will be a high school senior this fall.