Students spread nutrition ed
CMU dietetics majors deliver a lasting message to area food pantry visitors
Visitors to food pantries on Central Michigan University's campus and in Isabella County have been receiving more than free food recently, they're also getting free nutrition education from 36 senior CMU dietetics majors.
Anna Most, a nutrition faculty member in human environmental studies, was put in charge this year of the required senior-level Field Work: Community Nutrition class. Soon after, Jacquelyn Umpstead from the CMU Student Food Pantry told Most's colleague Lynn Evans that it could use some educational materials about good nutrition. She passed the request on to Most, and an idea was born.
Most came up with a plan for her senior dietetics students to create nine different videos in addition to educational handouts and posters for the food pantry. Then Most decided to kick it up a notch and expand the effort to all food pantries and the soup kitchen in Isabella County, where she would have the students talk to the visitors about nutrition, help serve food and perform other duties as needed.
"I wanted a program that would help me do well on the required registered dietician exam and land a job." ­— Erin McGarry, senior dietetics major
Better health through education
"We want to reach those who are nutritionally vulnerable and food insecure," she said, such as those who don't have consistent access, the funds to purchase or the knowledge to choose nutritious foods.
The need is great:
In Michigan, 1.4 million people, or one in seven, struggle with hunger, and 357,000, or one in six, of them are children, reports Feeding America, a nationwide network of 200 food banks and 60,000 food pantries and meal programs.
In Isabella County alone, 17 percent of the population, or 12,060 people, are considered food insecure, according to 2018 county health rankings by the Robert Wood Johnson Foundation.
On campus, as many as 3,000 students may be struggling with food insecurity, according to a recent study by CMU's Office of Student Affairs.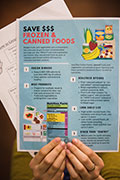 Most wants her students' efforts to reach as many food insecure residents as possible, so after the students' initial education sessions at the pantries and soup kitchen, the videos will run on a continuous loop on televisions or laptops for the clientele to watch as they wait to pick up their food or eat a meal. The posters and handouts also will be available.
Some of the topics the materials cover include understanding nutrition labels, lowering sodium intake, increasing fruits and vegetables, shopping for healthy choices on a budget, meal planning, and food safety.
"Any information, especially nutrition education, that is going to enrich the lives of the people who come to the soup kitchen is wonderful," said Sarah Adkins, executive director of the Isabella Community Soup Kitchen, noting how grateful the clients were to receive materials recently from senior dietetics majors Rachel Gibson from Waterford, Michigan, and Jordan Messing from Frankenmuth, Michigan.
It also gives the students great experience working as a group and in teams, recognizing and creating a solution to meet a need, and interacting with "clients."
High school visit lands swimmer
The opportunity for those experiences is what drew Livonia, Michigan, native and fellow senior dietetics major Erin McGarry to CMU.
Her interest in nutrition began when her swim coach at Churchill High School told the team that they would improve their performance if they would limit the amount of added sugar in their diets.
"That's when I learned how to read a nutrition label," McGarry said.
It's also when she learned that good nutrition brings good results.
"I noticed how much better I felt in practices, during meets and even in nonteam activities."
Her interest is attending CMU began when a group from Central visited Churchill to talk about opportunities, and one of the majors mentioned was dietetics.
During a tour at Central, she learned about what she now calls the dietitian majors' professional phase: when seniors are in the same classes and work together on projects, such as this year's focus on food pantries and food banks.
"That's when I realized that I could see myself going here," she said. "I wanted a program that would help me do well on the required registered dietician exam and land a job."
Helping students reach their goals
At CMU, graduates from the dietetics program are required to complete an accredited dietetic internship to help prepare them to pass the RD exam, Most said, adding that accredited internships are typically run by large hospitals and are very competitive because of their limited number.
McGarry's professional goal is to do outpatient work as a dietician for a hospital. In that role, she would work with patients who had been diagnosed with diabetes, for example, on how to create the best diet for the condition.
As McGarry and the other students pursue their goals, Most has some ideas cooking for next year's fieldwork class: She wants to offer one that teaches nutritional cooking, and she is working with the United Dairy Industry of Michigan to teach her students how to give nutritionally educational grocery store tours.
"I'm super excited that we are able to serve a very nutritionally fragile population that gets very little nutrition education."