Super Bowl ties 2 recent CMU grads
Sport management majors gain valuable experience with Chiefs, host stadium
While millions of Super Bowl fans focus on the field at Sunday's Super Bowl game, two recent Central Michigan University sport management graduates also will focus on the fans.
Taylor Dawson, a December graduate from Madison Heights, Michigan, will have her eyes on Kansas City Chiefs fans. She is a fan experience intern with the NFL team.
Logan Novak, a 2019 graduate from Chesterfield, Michigan, will have his eyes on fans overall. He is a membership development associate with the Miami Dolphins, whose Hard Rock Stadium is hosting the Chiefs and the San Francisco 49ers.
Both graduates' job goals have been to exceed fans' expectations: Dawson aims to make sure KC fans have a great experience at games and events. Novak's goal is to get fans tickets for the games and events they want and seats in the locations they want.
The grads' biggest fan is Steven Adler, a sport management faculty member. Having the two former students get plum positions didn't surprise him: Both excelled in his sport sales and marketing class and continued to climb.
'Roller coaster of events'
Dawson primarily works with season ticket holders, setting up and working VIP events such as visits to training camp, outings to preseason games and even monster truck shows and other non-football events.
"It's been a fun roller coaster of events," she said.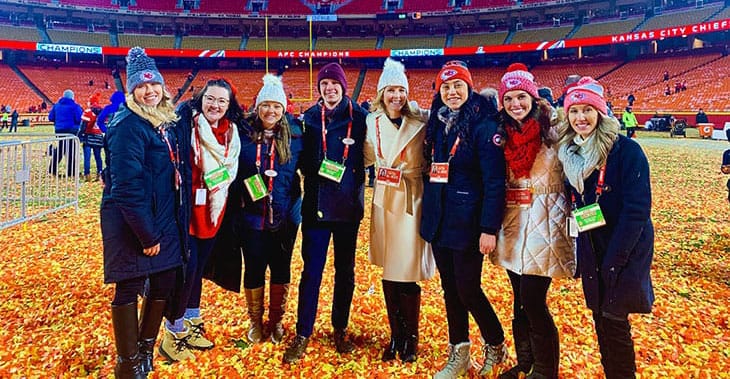 On game days, she has a full plate. Before the game starts, she helps her colleagues answer all fans' email requests, such as giving parking tips and assisting spectators with disabilities get to their seats.
Two hours before kickoff, she helps at a tent set up for season ticket holders that includes drinks, music, and visits by the team mascot and cheerleaders. During the game, she visits season ticket holders at their seats to hand out gift cards, hats and more.
Once the game starts, she and others stand at the ready to meet the needs of season ticket holders. If one spills a bag of popcorn, they're on the spot to bring a replacement.
Most of Novak's work happens before the game, signing up season ticket holders and selling group packages to events at the stadium. He works to help them get the seating they want, inform them of perks and ensure they're happy with their experiences.
"I want to make sure that the fan experience is as good as it can be," he said.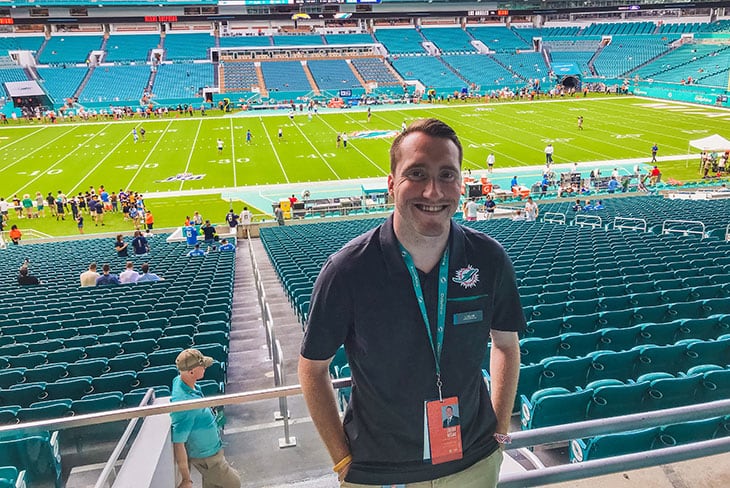 NFL takes charge
For the Super Bowl, however, Novak's and Dawson's focus changes or ends as the National Football League takes charge of the game and experience.
Employees for the Dolphins work with the NFL to make sure the stadium is in top shape and its workers are ready to make the fan experience top-notch.
The NFL gives tickets to all the league's teams and the host venue to sell. Novak helped create packages and suites for teams that included a weeklong string of events and parties.
Advice from the rookies
No matter the score of the game, Novak and Dawson consider themselves winners. Both have gained experience as they helped fans who got a seat at the biggest football event of the year.
And while they haven't been at it long, they have some advice for other sport management students at CMU.
"Get as much experience as you can, learn from your peers, and learn from the professionals who already are doing it," Novak said. "As I have been told, 'Be comfortable with being uncomfortable.'"
From Dawson: "Shoot your best shot. I didn't think I would get this job. I thought I would be on the bottom of the totem pole, but I got it."