Torch run is golden opportunity
Police sergeant represents CMU at Special Olympics World Games in Abu Dhabi
Central Michigan University Police Sgt. Riley Olson will warm his heart as much as his toes when he leaves winter behind this week.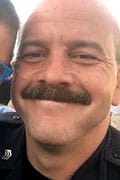 As a member of Law Enforcement Torch Run for Special Olympics, he's on his way to Abu Dhabi, United Arab Emirates, to help carry the ceremonial flame for the Special Olympics World Games. Out of 100 chosen torch runners, he's the only one from Michigan.
"How can you turn down a trip like that?" he asked.
Taking the heat
Olson leaves Thursday and returns March 18. In the lead-up to the games' March 14 opening ceremonies, he and other law enforcement officers from around the globe will pay goodwill visits to towns throughout the Middle Eastern country.
"Everyone says it's an experience that'll change you." — CMU Police Sgt. Riley Olson
Ten groups of 10 officers apiece, accompanied by a Special Olympics athlete, will tour with their own torches.
"We'll do a little PR event, explaining the excitement of Special Olympics, then we'll lead the community in a community run," he explained. "We'll be doing a handful of those each day.
"I think we're going to be averaging about five or six miles a day."
They'll run those miles in 85-degree heat — a far cry from Olson's most recent torch run experience, on the Sault Ste. Marie International Bridge for the Jan. 31 opening of the Ontario Special Olympics Winter Games. The wind chill was minus 30.
"Oh, it was cold," he said. "The Canadians didn't mind it as much."
In the UAE, it won't be all thirst and sweat: Torch runners and others will cool off with a "solar plunge" comparable to the recent Mount Pleasant Polar Plunge fundraiser. Sort of.
Though the pool will be iced, "certainly it won't be as cold as the one we just had here," Olson said.
Connection goes deep
"Special Olympics is something that's really dear to me," Olson said. For nearly 15 years he's volunteered with the annual Michigan Summer Games in Mount Pleasant, where he's now joined by his wife and children. "It's part of all my family members' lives now."
Olson helps out on the planning committee, organizes law enforcement for the games and "shamelessly solicits funds," including at tip-a-cop events where officers collect donations from restaurant patrons.
He also helps run the Special Olympics Duffers Association golf tournament hosted at area courses.
It adds up. Last year, Law Enforcement Torch Run raised $1.7 million in Michigan and $58 million nationwide. This year's state goal is $2 million.
A site for support
CMU Police Sgt. Riley Olson has a fundraising page for his overseas Law Enforcement Torch Run.
Representing CMU
Special Olympics World Games happen every two years, alternating between summer and winter competition. These will be the first games held in the Middle East.
The torch run's executive committee chooses members' names to put up for a vote to attend. Olson feels honored to represent Michigan and CMU, where he's been with the police department for 10 years. He's also a 2002 CMU graduate with a sociology degree.
Olson has attended a Special Olympics international conference before, in Nassau, Bahamas, although he's never been to an international competition or to the Mideast.
"I don't really know what to expect," he said, but he knows watching the World Games will be unforgettable. "Everyone says it's an experience that'll change you."