Building on a global foundation
Jennifer Evanuik, executive director of the Office of International Affairs, talks goals, plans
​In fifth grade Jennifer Evanuik's interest in other cultures began. Evanuik, executive director of the Office of International Affairs at Central Michigan University, developed a passion for the French language after high school students visited her classroom.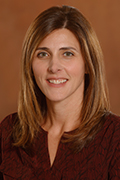 After majoring in French in college, Evanuik began her career in international education 13 years ago. Now she is ready to build on the strong international foundation in place at CMU.
Q: What are some of the benefits that students gain from studying abroad?
A: When you talk about international experience, people often think about the cultural component, and, yes, there is a huge benefit of learning about a culture or learning a language. If you are looking at the bigger picture, ultimately what studying abroad is doing is helping you learn how to learn or learn how to operate in an unfamiliar environment.
These types of experiences make you a more creative person, help you be more independent, a better problem-solver, more flexible, more adaptable, able to deal with ambiguity, more comfortable working with diverse people.
Beyond the intercultural component, these transferable skills apply to any setting.
Q: What do you want people to know about your office?
A: I want our office to really be a partner for everyone on campus. Whether that is academic departments, departments within enrollment student services, students, even alumni. I really want us to be the central administrative unit that helps everyone achieve their international goals. It's important to me that whatever we are doing in the international space is really aligned with our curriculum and our faculty interests, and helping our students prepare for successful careers in what really is a global economy.
Q: What are your goals for internationalization at CMU?
A: My first goal is to continue increasing access to global experiences for CMU students. I want to make sure that the types of international experiences we have for our students offer some kind of applied component or some kind of practical component so that students really have the opportunity to experience their discipline while abroad. And, I want to work with faculty, work with academic units to make sure that the programs we provide will keep our students on track academically.
My second goal is to ensure that our international students have a positive and fulfilling experience at CMU and in Mount Pleasant. International students add extremely important diversity to our community, including diversity of culture, worldview and life experiences. I want to create an environment that supports their personal and professional growth and their full integration into CMU, while providing a space for their various perspectives to be heard.
My third goal is to be a champion of internationalizing the curriculum. I want to really work with our deans and faculty to look for opportunities to incorporate international and global themes into their disciplines.
How can this topic be applied to a global setting? We are all subject to global and international forces. Being able to identify those global themes that connect to our difference disciplines and connecting that to what is being studied.
Q: What is your ultimate goal?
A: Ultimately, what I want is for international topics to be a part of our culture here. Realizing that not everyone has had the same life experiences as you and is not looking at life through the same lens as you; it makes you more empathetic, more patient, able to bridge differences, and it's applicable to anywhere in life.