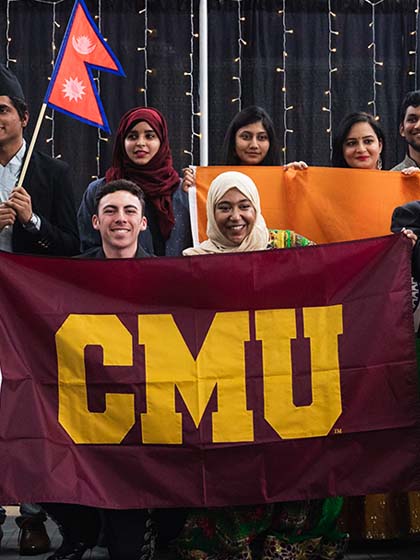 Office of Global Engagement
Welcome!
The Office of Global Engagement believes that all members of the Central Michigan University community should have opportunities to engage with other cultures, develop new perspectives, and learn how to lead in a global society. Through partnerships across campus and around the world, we support study abroad programs, curricular and co-curricular global initiatives, and we welcome international students, scholars, faculty and staff to our campus.
Studying abroad altered everything. It changed the way I saw the world, what I wanted to do and how I thought about things
OGE Highlights and Updates
Future Students
Find more information on how to apply to CMU and the English Proficiency Requirements.
You're a busy educator. A master's degree sounds like a great idea – a pay bump, updated skills, prestige, a longtime dream fulfilled. But you need the best fit for your work and family schedules. Online seems to make sense. No travel time, do your work after the kids are in bed, catch up over your lunch hour or on your commute. But you're not sure.
As technology progresses at the speed of light, educators are working hard to integrate the latest advancements into their classrooms and use them to engage their students. Yesterday's laptop carts have become today's classrooms full of iPads, but what will tomorrow bring? While that may be up for debate, it's clear that it will continue to encourage connections and help students push themselves. Below are three possible developments and how they can take your classroom to the next level.