CMU champions for diversity
New faculty fellowship program provides resources to develop impactful initiatives
Central Michigan University Vice President and Chief Diversity Officer A.T. Miller has many ideas about ways to improve diversity, equity and inclusion on campus. He also knows there are hundreds more just waiting to be heard.
"Many people on campus have been working on initiatives and projects related to diversity, equity and inclusion for years through their research and volunteer service. We needed a way to bring those ideas forward and to leverage the expertise that already exists at CMU," he said.
That's why he launched the Faculty Diversity and Inclusion Fellowship Program last year and began working with René Shingles and Cherie Strachan in January.
Building capacity for positive change
The fellowship lasts for one full calendar year and is open to tenured faculty members who wish to build leadership skills and improve campus culture and climate, Miller said.
Fellowship applicants submitted project proposals they wished to complete during the fellowship along with personal goals for improving their own knowledge and skill set in the areas of diversity, equity and inclusion.
Miller worked with a committee nominated by the Academic Senate, the CMU Faculty Association and the Office of Institutional Diversity, Equity and Inclusion to choose the first two fellows. The selection committee members were:
Concha Allen, faculty, marketing and hospitality services administration.
Frim Ampaw, faculty, educational leadership.
Misty Bennett, faculty, management.
Sapphire Cureg, director, diversity education.
Steven Johnson, vice president, enrollment and student services.
Leela Rakesh, faculty, mathematics.
The fellowship provides a three-credit-hour release each semester for the faculty fellows. This time can be used for reading and reflection, project planning and implementation, attending meetings and conferences, and work with Miller's office.
"We have to cultivate the infrastructure to make it all possible. One person alone — one office alone — cannot achieve all that is possible. The fellowship expands our reach by building a network of resources across campus," Miller said.
Custom training for academic areas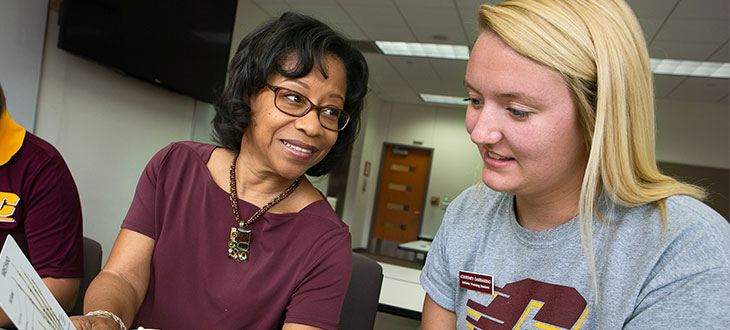 Each semester, CMU offers several workshops René Shingles wishes she could attend. Unfortunately, like many faculty members, she often misses out due to her busy teaching schedule. For her project, Shingles plans to take diversity, equity and inclusion teaching tools and resources directly into individual departments, allowing everyone to take advantage of opportunities to grow their knowledge and skill.
"This is a tremendous opportunity to advance the work being done at CMU in diversity, equity and inclusion in a way that is very different from how things have been done in the past," she said.
Shingles said health care professions such as athletic training have been addressing issues of cultural competency — ensuring students have the ability to understand, communicate and work with patients from many cultural, racial and ethnic backgrounds — for many years. She even wrote a book about it in 2011.
Some other programs are just getting started, Shingles said.
For her project, Shingles will meet with department chairs to learn about the specific needs of the area and work collaboratively with campus partners to create trainings for the faculty team. Her goal is to complement the excellent workshops already being offered on campus by the Office of Diversity Education and the Center for Excellence in Teaching and Learning, she said.
Shingles also is looking forward to having time to broaden her own understanding of emerging issues that her patients may face. She and Miller attended the national White Privilege Conference in March, and she plans to look into other opportunities to learn more about social justice and advocacy throughout the year.
"I am grateful for this time to read, reflect and build my own understanding and skill set," she said.
Bringing together tribe, town and gown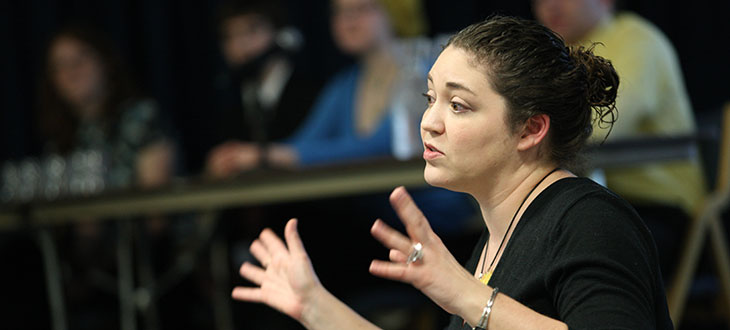 For political science faculty member Cherie Strachan, the fellowship presented an opportunity to complete a project she's been thinking about for a long time: a campus-community advisory board.
She envisions a group including representatives from the city of Mount Pleasant, the Saginaw Chippewa Indian Tribe and local nonprofit organizations, who can advise university leaders on issues most pressing to the local community.
The project is something she's wanted to do for quite a while, but never had the time or resources to devote to completing — until now.
"Faculty are often so pressured for time with end-of-the-semester projects, grading, deadlines and such. I appreciate having time to focus, to think and to implement," she said.
Miller said Strachan's expertise in community and civic engagement make her an ideal candidate to reach beyond the university's walls to bring new partners to the table.
In addition to working on her community advisory board project, Strachan said she's taking advantage of opportunities to learn more about the administrative side of diversity in higher education. She recently accompanied Miller to the National Association of Diversity Officers in Higher Education conference and came back with a deep appreciation for the energy, enthusiasm and determination required to create institutional change.
"There are so many opportunities for CMU to grow. One of the most important is to provide our students more opportunity to participate in engaged, experiential learning that helps them grow into public-spirited citizens," she said.