CMU medical student steps up in a crisis
College of Medicine prepares Akbar Husain for hospital post fighting COVID-19
When COVID-19 forced the cancellation of clinical rotations for Central Michigan University College of Medicine students, Akbar Husain decided to use his medical training and join the fight.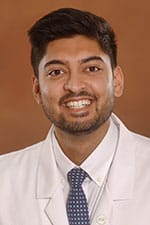 The third-year medical student from West Bloomfield Township, Michigan, took his skills to Henry Ford Macomb Hospital to work in infection control.
'Trial by fire'
Workers in infection control manage and track exposures to infectious diseases, coordinate care with health personnel and hospital processes, and participate in decisions regarding how hospitals manage epidemics in the community.
The quickness with which the virus spread in Michigan communities caught many hospitals and their workers off guard. Husain was quick to offer help.
"At first, it was like a trial by fire," he said. "It seemed that everyone was kind of building the plane as it flies. I was really fortunate in that Henry Ford was very efficient in getting me set up with the right communication equipment and teams."
He said the foundation of knowledge that the College of Medicine built in him to that point prepared him for the experience that will benefit him in years to come.
"It certainly will help me to advocate for preparedness, to have systems in place to connect the needs with the supplies so there is less panic and uncertainty."
Hearing a call
Uncertainty did not play a role in his choice of a career and a university.
If the fact that his father is a doctor didn't solidify the decision, a medical mission trip did.
"Seeing the kind of training you get from this career and the impact you can have is amazing," he said.
The opportunity to provide medical care to rural and underserved populations, and the family-like culture of the College of Medicine, are what drew him to CMU.
"Just the notion that you can offer health options to people felt like a calling," he said. "There is nothing that I would rather be doing."