Fulbright supports health care study
Health administration senior's interest is in evaluating public systems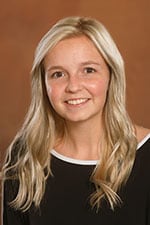 Anastasia Bjork, a Central Michigan University senior honors student from Ishpeming, Michigan, has received a prestigious Fulbright public choice master's degree grant to study at Tampere University in Finland.
The health administration major looks to expand her knowledge of other health care models, an interest that was sparked by a CMU study abroad experience in Stockholm that focused on Sweden's health care system.
"I was exposed to what you could do with universal or public health care systems," said the first-generation college student of Finnish descent.
"I started thinking about how we could bring some of those policies to the U.S. without changing some of values we have in our health care system."
She discovered her passion for health care while working for CMU Student Health Services as a freshman and for a health system in the Upper Peninsula, she said.
"I had my own struggles with medical costs and trying to get adequate care. I decided that I wanted to go into something that could help change that in the U.S."
Fulbright student programs are offered in more than 140 countries around the world. Students are selected based on their academic merit, leadership and cultural competency.
Students interested in applying for funded international opportunities for graduate study can go to the CMU National Scholarship Program page.